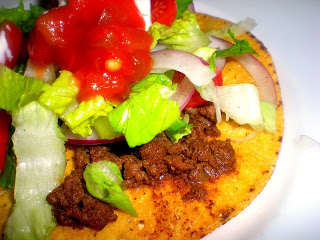 Who can resist? One good thing about these is that the whole family loves them. That doesn't happen a lot. With a family of nine, there is always someone in the bunch who doesn't like what I make. I always make meals I think my husband and I would love and then just adjust my children's plates to their liking.
Easy to love, easy to make…
2 lbs. ground beef (I used venison and it tasted fantastic!)
iceberg or romaine chopped
grape tomatoes, sliced in half length-wise
Turn your oven to broil. In a hot skillet with a little oil in the pan, brown the ground beef until no longer pink. Add your spices and stir, add a couple splashes of water and stir, letting it simmer on medium/low until water evaporates and flavors concentrate.
Get your toppings ready on a platter for your tostada bar. Line a baking sheet with some foil and place your first round of 8 on the sheet. Top with your simmering taco meat (about 1/2 cup) on each tostada and place a sprinkling of cheese on top of each one. Place under the broiler for about 2-4 minutes…watch it so it doesn't burn.
Take out of the oven and serve on plates for everyone to top to their liking! Do the second round of tostadas and have ready for second helpings.
Warm, crispy, and cool, all at the same time! Your family will love this simple, delicious meal.