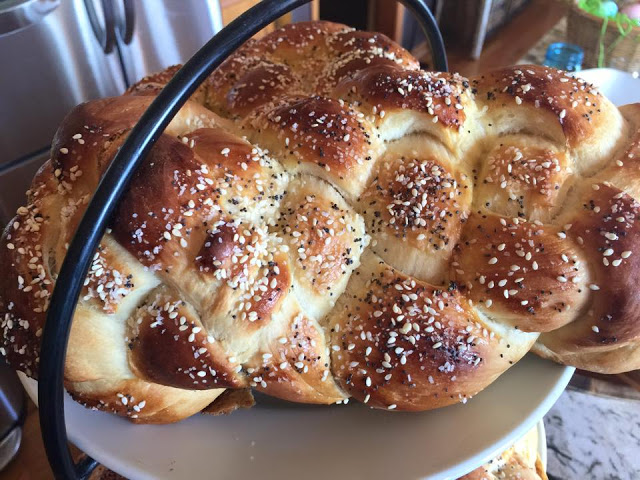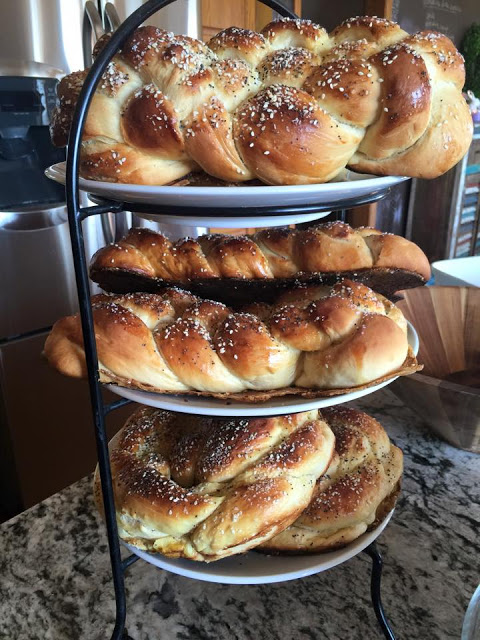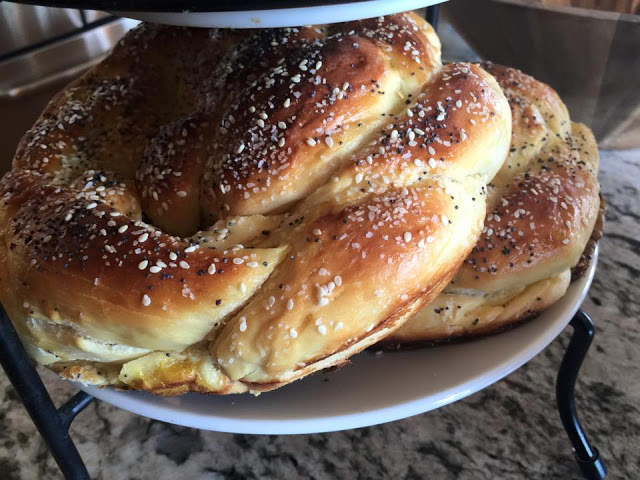 With a little know-how, you can make a 4-braid, traditional Challah this Easter. It's delicious, and beautiful. This is a traditional Jewish Sabbath bread, blessed and served before Friday-night dinner. This recipe is my favorite and taken from the, Joy of Cooking cookbook.
A PPM tip: This bread takes some time so plan to make this a day before you serve it.
Combine in a heavy duty mixer and let stand until the yeast is dissolved about 5-minutes:
1/2 cup all-purpose flour
2 large eggs, lightly beaten
2 egg yolks, lightly beaten
Mix on low speed until thoroughly blended. Gradually stir in:
Knead for about 8 minutes by hand or with the dough hook on low to medium speed until the dough is smooth and elastic and no longer sticks to your hands or the bowl. Transfer the dough to an oiled bowl and turn it over once to coat with oil. Cover with plastic wrap and let rise in a warm place until doubled in volume, 1-1 1/2 hours. Punch the dough down, knead briefly, and refrigerate covered until it has again nearly doubled in volume. 4-12 hours. The dough is now ready to be shaped.
Divide the dough equally into 4 pieces. On an unfloured work surface, roll into balls and let rise loosely covered with plastic wrap for 10-minutes. Roll the balls of dough into long ropes about 1-inch thick and 20-inches long.
Watch this video for instruction on how to braid a 4-strand Challah.
Loosely cover the braid with lightly oiled plastic wrap and let rise in a warm place until not quite doubled, about 45 minutes.
Preheat the oven to 375 degrees. Brush the loaf again with egg wash. If desired, sprinkle with poppy or sesame seeds.