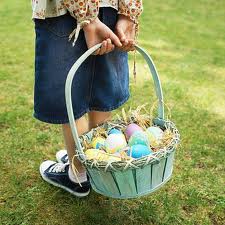 Planning Your Easter Menu
One of the best tips in being organized and having a memorable Easter without stress, is to plan your Easter in detail. Get out your planners,
and begin writing down all you want to have as your menu for Easter and get down all the details. This is what will get you organized!
I will be posting some amazing, tried-and-true, recipes you can add to your repertoire…so get in your planners and let's plan your Easter menu.
1.) On a piece of loose-leaf (preferably reinforced), paper and put a header at the top, such as:
Easter 2011
2.) Now you're ready to start dreaming about this holiday and what you would like to serve, not only on Easter, but what traditional foods to make for your family on the days leading up to Easter during Holy week. I'm going to keep it only about your menu here at PPM, but check out Planner Perfect and Homeschooling Belle for your complete, Easter planning and some, great craft ideas!
3.) How to write these visions down is the fun part…
I love to use sub-titles with bullet points to hold all the good stuff (the details!). For example I have a sub-title that writes:
·
Scrambled eggs in puff pastry
·
Fruit cups with fresh, homemade whipped cream
·
Easter bone-in ham with citrus glaze—Penton's prepare
· Scalloped potatoes—Annie
· Garden Salad—Mom
· Prosciutto wrapped asparagus—Penton's
· Homemade Challah—Penton's
· Relish tray—Annie
Dessert
—Carrot Cake/coffee—Penton's
·
Good Friday…
Hot cross buns to represent the crucifixion of Jesus
This is my sample menu planning done in my Planner Perfect,
planner, that I know you'll love! Keep this in your April monthly planning pages or in your planning system you love to adhere to when preparing your menu.
I write down what I'll need at the grocery store for my menu and I write this down on another separate piece of paper (in my planner), this way when I'm ready, I can simply tear it out and go…here is a sample grocery day list for my Easter Menu:
Fresh fruit for our breakfast
·
Carrots for carrot cake
This is just a sample…you get the idea. I like to categorize my list for easy shopping. Keep this in your planner until you go shopping.
A PPM Tip:
Another advantage to having your menu ready to go, is the ability to pick up items that aren't perishable, early; this helps spread out the cost. For my ham, I wait for the best sale and pick it up, the puff pastry can be picked up early and so on. When you do your weekly menus in April, add some of these Easter menu items that you can on your list. Simply cross out all items picked up early and your Easter list gets smaller and smaller.
Feeding family and friends on Easter will run seamless!
Planning when to buy your Easter clothes, and Easter basket planning
Easter Decor and some decorating ideas
Crafts such as homemade resurrection eggs and more!
They will be posted continually until Easter, as I am baking, crafting, and double checking recipes to ensure they are the best!
I hope these tips get you organized and planned for your Easter…