Roasted Tomatoes are my new favorite!
Now that summer is coming and tomatoes will be at our disposal, this will be a staple.
Roma, cherry or grape tomatoes
Half your tomatoes and scoop out the seeds with just your finger. Pat dry and place on a baking sheet. Drizzle with olive oil, salt and pepper (not too much as the flavor intensifies when roasted) and add fresh thyme or rosemary, taking them off the stem.
Place in a 250 degree F. oven for about 3 hours. They will dry out some and the flavors will intensify! It is more than delicious.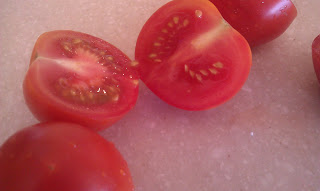 Use these roasted tomatoes on a salad, pizza, on a bagel or cream cheese, I top my homemade fococcia with it…yum!
With summer around the bend, roast your garden tomatoes, all summer long and eat them with fresh mozzarella, fresh basil, on a bed of arugula. Top with a balsamic vinaigrette and you won't be able to believe the flavors.
Keep them in the container in the fridge to keep fresh until ready to use. Summer time is the perfect time to roast your tomatoes