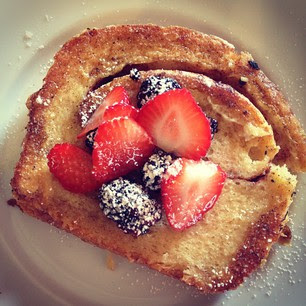 The Very Best Stuffed French Toast
Crispy toasted cinnamon, sugar toast, stuffed with a brown sugar and pecan filling…Oh my!


This recipe is amazing and coupled with my homemade white bread or cinnamon bread, you've got a french toast to die for. There is nothing like it!
On your baking day, bake-up some of my homemade bread, either white, challah, or multigrain, and devote a loaf to make french toast. The bread pushes this recipe over the top! Your baking day will serve you well here, once again and you'll have breakfast in the bag. And all made with your hands.
And who doesn't want to be a super star?
Any thick cut bread. Homemade is best.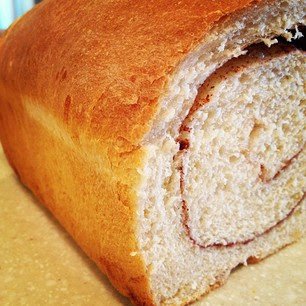 1 cup milk (I didn't use milk because I was out and used half and half…worked beautifully!)
For variety, mix the cream cheese with thick fruit preserves or apple butter
1/4 cup packed light brown sugar
1/4 cup honey or maple syrup
crush pecans (I add the pecans last and stuff the toast for my nutless kiddos, first)
Cut your bread in thick slices (about an inch thick) and work the knife on one side of the bread slicing in the middle creating a pocket you can open with your fingers. Spoon an equal amount of the filling into each pocket.
Whisk together in a shallow bowl all the ingredients listed for the toast.
One or two slices at at time, soak teh bread in the mixture until thoroughly saturated but not falling apart. In a skillet, heat over medium-low heat:
Add as many slices of bread to the skillet as will fit without crowding and cook until brown, flip over and brown the other side.
To keep warm while cooking them all, place on a baking sheet and put in the oven on warm.
Continue to cook the rest of your french toasts. Serve warm with some butter, powdered sugar, and warm maple syrup.
I always made this when we went camping.
Prepare your filling and store in a small plastic container. I did the same with my egg mixture. I had my bread pre-cut and ready to go as well, in a plastic Ziplock bag. Everything is ready to make stuffed french toast when camping. Hello…yum!