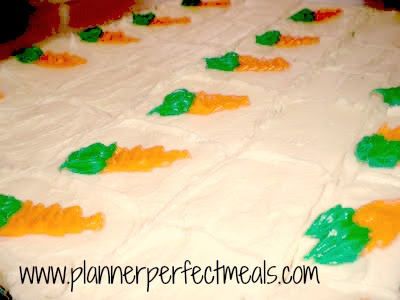 Moist Carrot Cake Bars
Truly, I love carrot cake; it is one of my all-time favorites. I decided this time instead of making a traditional 2-tier cake or in a 9×13 baking dish, to try to make carrot cake bars on my baking sheet.
They were thin, moist, topped with the traditional cream cheese frosting and I piped them with frosting, carrots. This is perfect for potlucks, camping trips (well, if you're me) or just about any occasion!
Adapted from Better Homes and Gardens
3 cups finely shredded carrot
In a bowl combine flour, sugar, baking powder, baking soda, and cinnamon. Add carrot, oil, and eggs, Beat with an electric mixer till combined. Pour into a greased baking sheet and bake in a 350 degree oven for 20-25 minutes. Keep peeking in on these, they are thin and do bake quicker…inserting a toothpick from around the 15-20 minute marker. If the toothpick comes out clean, it's done. I let it cool in the pan. Once cool, frost. Pipe with carrots for decorations if you choose. I found green and orange frosting, with an option to buy tips to attach to the tubes. It was great fun!
2 3-ounce packages cream cheese
4 1/2-4 3/4 cups powdered sugar
In a bowl beat together cream cheese, butter, and vanilla till light and fluffy. Gradually add 2 cups powdered sugar, beating well.
Gradually beat in enough remaining powdered sugar to make frosting of spreading consistency. Frosts the top of the cake and pipe if you like.