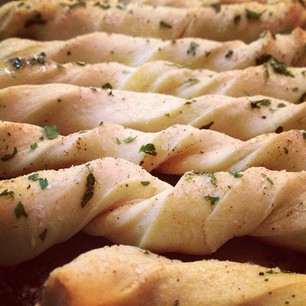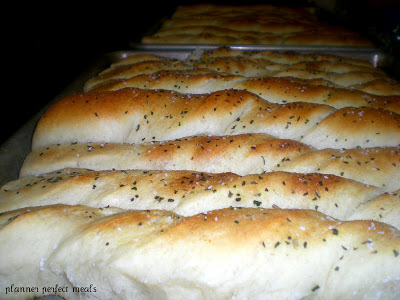 I had made some of my spaghetti the other day and let it bubble away at the stove all afternoon. I ran some errands and when I got home it was close to dinner. As I was making our salad, I wished I would have made some bread sticks. I knew there had to be a recipe out there that could be made quick and easy, yet with no sacrifice to flavor. I found it and changed it up a bit. They were absolutely delicious!
Make these anytime in a pinch for an accompaniment to any meal.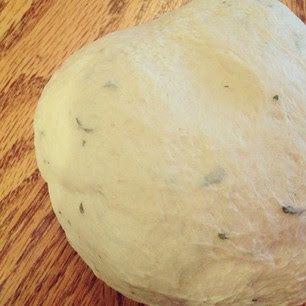 breadstick dough ready for shaping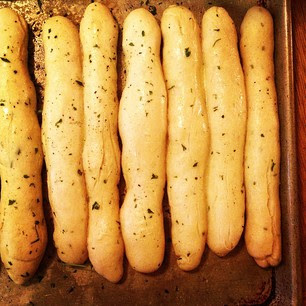 buttered, herbed, baked and ready to eat
1 cup warm water
3 tbsp. brown sugar
1 tsp. salt
1/4 cup oil
3 1/2 cups bread flour
2 1/2 tsp. yeast
1/4 stick melted butter
1-2 tsp. garlic powder
2 tsp. basil
2 tsp. kosher salt

Directions:
Dissolve your yeast, warm water and sugar in a mixing bowl (giving it a quick stir to combine) until proofed. You'll know it is ready when the mixture looks foamy and bubbly.

Add your salt and oil and slowly add your flour adding it a little at a time until you get a soft dough. Do not add all your flour at once and run the risk of adding too much flour and producing a stiff dough. Take the dough out and continue kneading for about 5 minutes. Your dough should feel light and soft.

Roll out into a 10×12 rectangle and cut into 1-inch strips. Give each strip a twist and place on a greased baking sheet. Let rise for 20-minutes or more.

Melt 1/4 stick of butter in a small bowl and using a pastry brush, brush the bread sticks with the melted butter. Sprinkle with garlic salt, a little kosher salt, and dried basil.

Bake at 375 F. for 10-15 minutes

Delish!