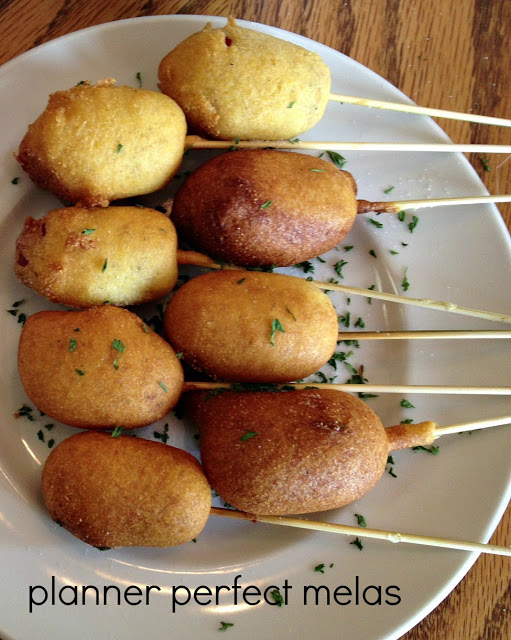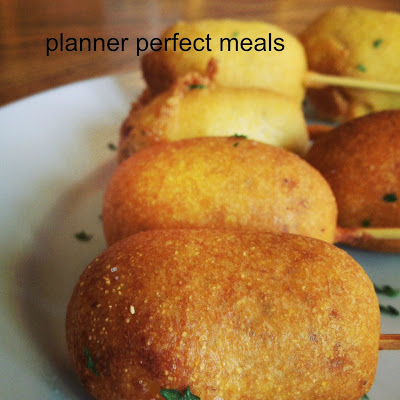 These homemade corn dogs are so good; my children loved these! They are simple, easy, and they'll be your new staple. I made these corn dogs to go into their Muffin Tin Meal, along with some fruit, veggies and dip and my peanut butter cookies.
Make them. Eat them. Enjoy. Repeat.
Ingredients
1 cup yellow cornmeal

1 cup all-purpose flour

1/4 teaspoon salt

1/8 teaspoon black pepper

1/4 cup white sugar

4 teaspoons baking powder

1 egg

11/2 of cup milk

1 quart vegetable oil for frying

2 (16 ounce) packages beef frankfurters

16 wooden skewers
Directions
In a medium bowl, combine cornmeal, flour, salt, pepper, sugar and baking powder. Stir in eggs and milk.

Preheat oil in a deep saucepan over medium heat. Insert wooden skewers into frankfurters. Roll frankfurters (I use in batter until well coated.

Fry 2 or 3 corn dogs at a time until lightly browned, about 3 minutes. Drain on paper towels.
PPM TIP! I sprinkled some salt and pepper and my personal all-time favorite herb, dried parsley, on them right when they came out of the oil. Delicious and added some great flavor.

These are not only for kids! Season them with some Tex-Mex seasoning for adults and make a wonderful mustard dipping sauce to go with it. Your friends and their children will love them!
These have a nice rustic look to them since being homemade. No smooth-looking exterior, processed junk, here. Just good, homemade food!