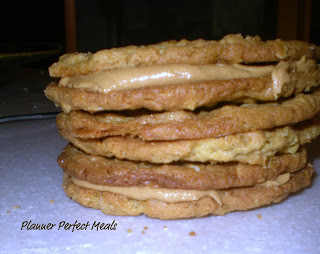 I my gosh, I love Nutter Butter cookies! I love them but, of course, wanted to make them homemade. I found just the recipe over at The Italian Dish, and adjusted it just a tad. If you love peanut butter, these cookies will be a staple in your home! YUM!!
2 cups all purpose flour
2 teaspoons baking powder
4 teaspoons baking soda
1 pound (4 sticks) butter, at room temperature
2/3 cup creamy peanut butter
1 cup granulated sugar
1 cup firmly packed light brown sugar
2 large eggs
1.5 teaspoons vanilla extract
2.5 cups quick-cooking oats
( you can add 1/3 cup coarsely chopped peanuts to this recipe; I just omitted them because my kids wouldn't eat them)
For the filling:
I omitted the butter in this filling because I find it to be too sweet. I wanted that true peanut butter taste, only slightly sweetened and it turned out perfect! But if you like the creamy sweet filling, here is her version:
1/4 pound (1 stick) butter, at room temperature
1/2 cup creamy peanut butter
1- 2/3 cups confectioners' sugar
Mine:
1 cup creamy peanut butter
1/2 cup confectioners' sugar
For cookie dough: Preheat oven to 350 degrees. In a bowl, mix together the flour, baking powder and baking soda; set aside. Using a mixer with a paddle attachment, cream together the butter and peanut butter. Add sugars and beat at medium speed for 4 minutes, scraping down bowl twice.
At low speed, add eggs and vanilla. Add flour mixture and beat at low speed until well mixed, frequently scraping down bowl. Add peanuts and oats, and mix well. Using an ice cream scoop 2 inches in diameter, place balls of dough on parchment lined baking sheets at least three inches apart. Bake until cookies have spread and turned very light golden brown, about 10 minutes. Remove from oven and set aside to cool and firm up, 5 to 10 minutes. Transfer to a rack to cool completely before filling.
For filling: using an electric mixer, cream together peanut butter and confectioners' sugar until very smooth.
To assemble cookies, spread a thin layer (about 1/8 inch) on underside of a cookie. Sandwich with another cookie. Repeat.
Yield: 24 large cookies.