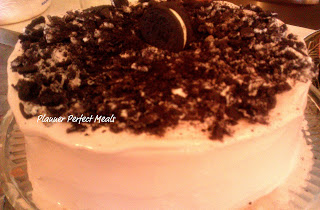 I am in love with ice cream cakes. This is a DQ copy-cat recipe and is the most requested cake for birthdays around this house. You are going to want to make this cake this summer…it is amazing! Just plan to make this cake in advance, you'll need 2 days.
I've linked up this recipe with this great blog! Check it out!!
Ingredients:
printable recipe
one gallon total of any ice cream you choose, softened. For a kids party I'll use a large gallon tub of chocolate and vanilla to make it easy. If I'm entertaining for adult guests, I'll use gourmet ice cream with amazing flavor combinations.

1 jar (16 oz.) of fudge topping


1 package of Oreo cookies, crushed (I placed all of mine in a Ziplock back and with the back of a serving spoon hit until crushed)


Frosting:
1 container of Cool Whip
ice cream left over from the cake (about a pint or so)
1 1/2 pkg. of Oreo cookies, crushed
springform pan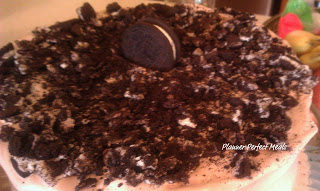 Assembly:
Place your first flavor of ice cream to fill half way in your springform pan. Soften your fudge topping in the microwave for about 40 seconds to just warm. Pour the whole container over the ice cream and spread even. Place your crushed Oreos on top and spread evenly. Place foil on top and freeze until frozen, for at least an 3-4 hours or overnight.
Next phase:
Spread the rest of your ice cream on top of the middle layer of fudge and cookies, and spread until even and at the top of the springform pan. Freeze for at least 2 hours.
Make the frosting right when you're about to frost the cake so it stays cold.
Combine all of the Cool Whip and the remainder of the ice cream (you should have about a pint or so left), in your standing mixer with the whisk attachment. Whip until thoroughly incorporated and fluffy.
Get your frozen cake out, and your cake stand. Place parchment paper over stand and let overhang. This is going to keep your stand clean while you work. Frost the top and sides of cake
.
Frosting quickly! Evenly spread your crushed Oreos over the top and garnish with one whole Oreo. Now remove the parchment overhang and you have a very clean cake stand. Remember that the cake will slide around on that cake stand, so keep your thumbs on it while transferring. I speak from experience!!!
Keep in the freezer until ready to serve.
PPM Tip! When serving, have a glass of warm water ready with your large cutting knife. Dip your knife each time you slice and you should have stress-free slices!