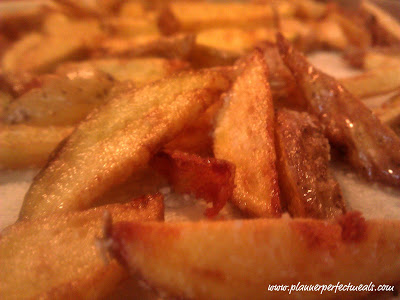 Easy. Fast. Crispy. Homemade. Home-run. Fries.
These fries are so good, so fast, I will never make fries any other way! These fries are cut, and come up to a boil with the oil. Weird I know, but it is amazing! These are made from the Yukon potato because they have less starch and work well with this fry-method. I even made two batches for my large brood and had to place the 2nd batch in oil already up to temperature. Still came out amazing… make these instead of any frozen variety. I've been hailed the most wonderful mama after this crispy crunchy side dish, and you will, too.
Prep Time

: 10 minutes |

Cook Time

: 30 minutes
2½ pounds Yukon gold potatoes, scrubbed, dried, sides squared off, and cut lengthwise into ¼-inch by ¼-inch strips
6 cups peanut or vegetable oil
Combine the potatoes and the oil in a large Dutch oven or heavy-bottomed pot. Cook over high heat until oil has reached a rolling boil, about 5 minutes. Continue to cook, without stirring, until potatoes are limp but exteriors are beginning to firm, about 15 minutes. Meanwhile, line a baking sheet with a double layer of paper towels.
Using tongs, stir potatoes, gently scraping up any that stick, and continue to cook, stirring occasionally, until golden and crisp, 5 to 10 minutes longer. Using a skimmer or slotted spoon, transfer fries to paper towel-lined baking sheet. Season with salt (and pepper, if desired) and serve immediately.
Note

: Do not use sweet potatoes or russet potatoes; the starch content won't hold up to frying in this manner.
*Image taken from my daughter, Madeline*