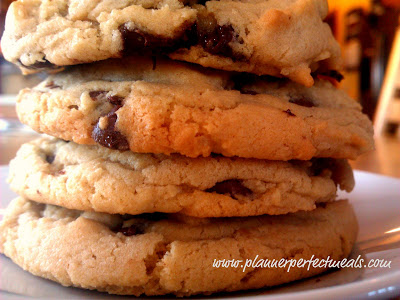 I am a big cookie fan and I had to give this one a try since the secret to its deliciousness is its use of bread flour and whole wheat pastry as its flours of choice. One word describes them: AMAZING! I love the heartiness that the pastry flour imparts, and your children won't even notice a difference. I've made these with white whole wheat flour, too, and comes out without much difference. You must give these a try and use the best chocolate you can get your hands on; I personally love Guittard chocolate. Enjoy my friends!
Nice thick dough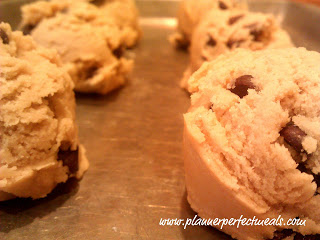 Right before heading to the oven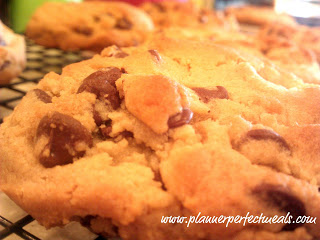 Adapted from Jacques Torres and seen on MarthaStewart.com
Ingredients
1 pound unsalted butter
1 3/4 cups granulated sugar
2 1/4 cups packed light-brown sugar
4 large eggs
3 cups plus 2 tablespoons pastry flour
3 cups bread flour
1 tablespoon salt
2 teaspoons baking powder
2 teaspoons baking soda
1 tablespoon pure vanilla extract
2 pounds Chocolate or other best-quality semisweet or bittersweet chocolate, coarsely chopped
Directions
Preheat oven to 350 degrees. Line baking sheets with parchment paper or nonstick baking mats; set aside.
In the bowl of an electric mixer fitted with the paddle attachment, cream together butter and sugars. Add eggs, one at a time, mixing well after each addition. Reduce speed to low and add both flours, baking powder, baking soda, vanilla, and chocolate; mix until well combined.
Using a 4-ounce scoop for larger cookies or a 1-ounce scoop for smaller cookies, scoop cookie dough onto prepared baking sheets, about 2 inches apart. Bake until lightly browned, but still soft, about 20 minutes for larger cookies and about 15 minutes for smaller cookies. Cool slightly on baking sheets before transferring to a wire rack to cool completely.