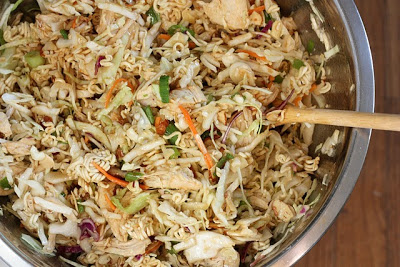 This recipe is from the, Happy The Home, blog, and thought it looked delicious! You must check her out for some fun every day home ideas and recipes.
Printable Recipe
Asian Chicken Salad (slaw)
1 lb. boneless, skinless chicken breasts (cut into pieces and grilled w/ 2 tbsp. oil)
2 pkgs. ramen noodles (oriental flavor)
1 bag shredded cabbage
1 shredded broccoli slaw
1 bunch green onions, chopped
2 tbsp. toasted sesame seeds
1 cup almonds (sliced or slivered), toasted
Dressing:
1 pkg of ramen seasoning
1/2 cup oil
1 tbsp. sugar
1 tsp. salt
1/2 tsp. pepper
1/4 cup of rice vinegar
2 tbsp. soy sauce
Cook chicken. Mix dressing. Throw together and toss! it's just that easy.
*image of the recipe from Nest of Posies… another fabo blog that you all must check out!