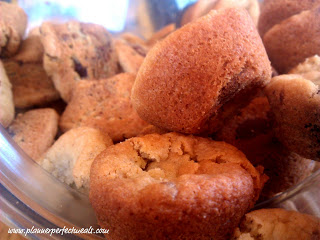 These are so good and their shape alone grab all children's attention! This is just my chocolate chip cookies dropped into a mini muffin tin. They are moist, delicious and full of the best chocolate chunks. You will have making these and your kids will have fun eating them!
Chocolate Chunk Cookies Dough:
printable recipe
4 sticks of softened butter
11/2 cup sugar
11/2 cup brown sugar
4 eggs
2 tsp. baking soda
2 tsp. salt
5 cups flour
2 bags of good quality chocolate pieces such a Guittard (my personal fave)
Directions:
With a large paddle attachment in your mixer combine the butter and sugars until light and fluffy. Add the eggs and mix until just combined. Add your dry ingredients and mix until just combined. Stir in the chocolate chips.
With a small cookie scoop drop balls of the cookie dough in the mini muffin tin and bake in a 350 degree oven for about 10 minutes or until lightly browned. Do not over bake! I leave in the muffin tin to further bake for a couple of minutes until carefully (I used a spoon) to take out and place on cooling racks.
Enjoy!