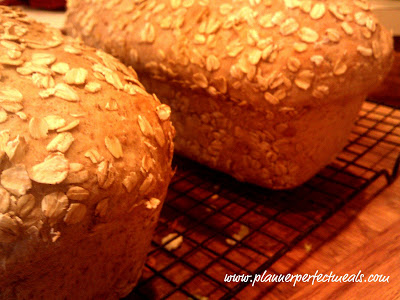 Fall is coming and that just screams warm, homemade bread pulled out of the oven. I love making my homemade white bread and this one, too, is a joy to make. I get a kick out of the bread dough being rolled in oats before placed in the hot oven, and this one is a 7-grain, delight! It is moist, has wonderful flavor and makes an outstanding sandwich bread. You are going to love making this bread. Enjoy!

*Adapted from the Cook's magazine. (One of my favorite food magazines!)
Printable Recipe

Note: When shopping for seven-grain hot cereal mix, don't confuse it with boxed, cold breakfast cereals that may also be labeled "7-grain." The favorite to brands of seven-grain hot cereal mix are Bob's Red Mill and Arrowhead Mills. Leftover bread can be wrapped in a double layer of plastic wrap of placed in a zipper-lock bag and stored at room temperature for up to three days; when wrapped in plastic and and additional layer of aluminum foil, the bread can be frozen for up to one month.

Ingredients:
6 1/4 ounces (1 1/4 cups) seven-grain hot cereal mix (see note)
2 1/2 cups boiling water
15 ounces (3 cups) unbleached all-purpose flour plus extra for dusting work surface
1 1/2 cups (7 1/2 ounces) whole-wheat flour
4 tbsp. honey
4 tbsp. melted butter
2 1/2 tsp. instant yeast
1 tbsp. salt
3/4 cup unsalted pumpkin or sunflower seeds
Nonstick cooking spray
1/2 cup rolled oats or quick oats
Directions:
Place cereal mix in a bowl or stand mixer and pour boiling water over it; let stand, stirring occasionally, until mixture cools to 100 degrees and resembles thick porridge, about 1 hour. Whisk flours in medium bowl.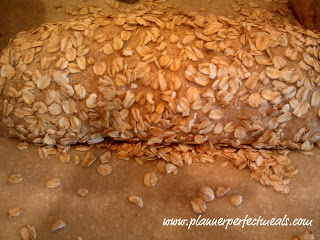 dough is rolled in oats before placing in loaf pans
Once grain mixture has cooled, add honey, melted butter, and yeast and stir to combine. Attach bowl to stand mixer fitted with dough hook. With mixer running on low speed, add flours, 1/2 cup at a time, and knead until dough forms ball, 1 1/2 to 2 minutes, cover bowl with plastic wrap and let dough rest for 20 minutes. Add salt and knead on medium-low speed until dough clears sides of bowl, 3-4, adding a tsp. at a time until it comes away from the bowl. Knead for 5 minutes. Add pumpkin seeds or sunflower seeds and knead by hand until seeds are dispersed evenly and dough forms smooth, taut ball. Place dough into greased container with 4-quart capacity; cover container with plastic wrap and allow dough to rise until doubled, 45-60 minutes.
Adjust oven rack to middle position; heat oven to 375 degrees. Spray two 9×5-inch loaf pans with nonstick cooking spray. Transfer dough to lightly floured work surface and pat into 12×9-inch rectangle; cut dough in half crosswise with chef's knife or bench scraper. Roll into a nice smooth rectangular log, spray loaves with a nonstick spray and roll into oats, evenly coating them. Place them into the loaf pans.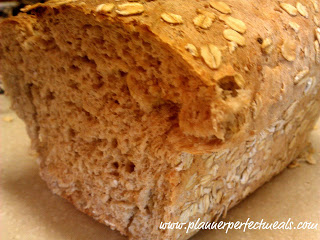 Cover loaf pans lightly with plastic wrap and let dough rise until almost doubled in size, 30-40 minutes. Remover plastic wrap from pans and bake until internal temperature registers 200 degrees; about 30-40 minutes. Remover loaves from pans and cool on wire rack before slicing, about 3 hours.
Enjoy!