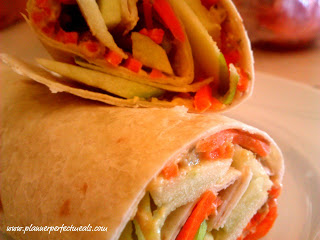 Crispy, crunchy, flavorful and delicious
These are so good! These are a good one to try on the kids for an afternoon snack; they might think they won't like it, but let me tell you, kids dig 'em. It is filled with a garlic hummus, which imparts such great flavor, tart, thinly sliced Granny Smith apples, and shredded carrot all rolled together in a flour tortilla.
I've even served them with one of my girly get-togethers and let me tell you…they're a hit!
So easy, cute, and delicious!
Hummus spread on top of my flour tortilla
printable recipe
Ingredients:
Flour tortillas (large)
Hummus. Plain or garlic
One Granny Smith Apple thinly sliced
Around 1/2 cup of shredded carrot


Directions:
Lay your flour tortilla on a flat work surface and spread a nice amount of hummus. Layer on the carrot and apple and tightly roll-up. You can cut into 4 nice rounds to serve…or however you like.
Enjoy!