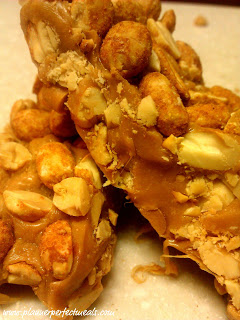 When I was growing up, I remember my mom being in love with the Nut Roll. You know the ones…where there are a million sitting piled high in a barrel selling ten for $1 at a gas station?
Well, I am in love with them, too, and these Salted Peanut Bars come real close. These babies hit the spot around 3 pm with a nice hot cup of coffee. Trust me…you'll be whipping some of these up a lot because they'll be your new fave!
Printable Recipe
Prep Time

15 minutes

Total Time

2 hours, 15 minutes

Yield Makes 16
Ingredients
Nonstick cooking spray

2 1/4 cups coarsely chopped roasted salted peanuts
50 store-bought soft caramel squares, unwrapped (14 ounces)
1 cup mini marshmallows
Directions
Lightly coat an 8-inch square baking dish with cooking spray. Line with parchment paper, leaving a 1-inch overhang on all sides, then lightly coat parchment with spray. Cover paper with 1 1/4 cups peanuts.
In a medium pot, combine 1 tablespoon water, caramels, and marshmallows over medium. Cook, stirring frequently, until caramels and marshmallows melt and mixture is smooth, about 8 minutes. Immediately pour over peanuts, then top with remaining 1 cup peanuts. Let cool until set, about 2 hours, then cut into 16 bars.