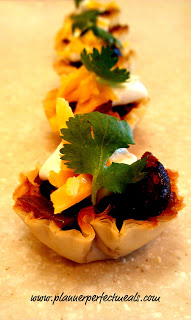 Fall and chili go together quite nicely don't they? I love offering it to guests while watching a big football game and as well as to my family on a cozy fall night for dinner. I have 3 different ways to serve your chili and I know you're going to love it! Check it out…


For my perfect chili recipe: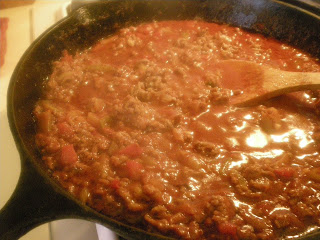 Instructions:
2lbs. Ground beef
1 onion, diced
1 red or yellow bell pepper, diced
1 jalapeno, seeded, and diced
2 garlic cloves, minced
3 tbsp. Chili powder
1 tbsp. Ground cumin
2 cans tomato puree
1 cup water (this is optional. Sometimes I don't add this because I want it thick!)
1 can kidney beans
salt and pepper to taste
Brown the beef and the next 4 ingredients. Drain and then add remaining ingredients. Bring to a boil and then simmer for half-hour. You can simmer this on your stove-top for a couple hours on low or put in your crock pot on low for the day!!
1st chili option: Just in your bowl with toppings!
I always have cilantro, shredded cheddar cheese, sour cream and corn chips for dipping. So delicious…I'd have to say this is one of my children's favorites and could eat it every night.
My husband grew up having his chili served over rice to ration. His mom had plenty to save for leftovers using this method. It is quite tasty and should give it a try! He always loves a pot of rice available with his chili.
Option #2: In pastry cups.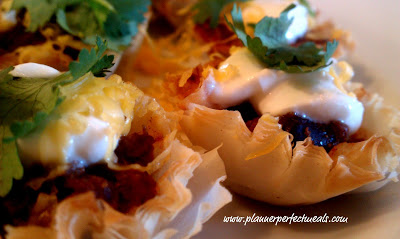 In your freezer isle there are these pastry cups; already shaped and ready to go. Perfect for entertaining! Just place frozen shells on a cookie sheet, fill with your prepared chili and bake for 5-10 minutes on 350 degrees.
Once out, place on a beautiful plate, top with sour cream, cheddar cheese and a cilantro leaf…beautiful as it is delicious! Ready to serve. My photo up top is another look at these cuties fresh out of my oven.
Option #3: Chili Pocket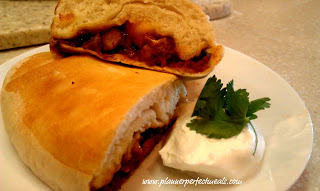 These are amazing and you must try them! Try baking these up and freezing them. Just pop them into the oven to warm and you've got a tasty treat anytime. This is using my homemade white bread recipe. I make time for a baking day one day a week, this saves me time in the kitchen, saves money, and feeds my family well by baking yummy foods from scratch.
Click here for more details on creating a baking day in your week.


Spray a cooking sheet with Pam spray and preheat your oven to 350 degrees. Meanwhile, I take from my bread dough (on my baking day) roll out fairly thin and put a small spoonful of chili on it with some shredded cheese. Wrap the dough over and pinch the sides and/or seal with the tines of a fork. Brush the top with egg whites and place on the baking sheet and bake for about 10 minutes or until lightly browned. 8-10 minutes.


I liked serving mine with a dollop of sour cream and cilantro. My kids loved them!


There you have it; chili 3 ways!
I hope you try them for your family. Enjoy!