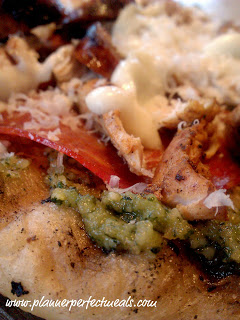 If you haven't tried pizza with pesto…you need to. It's so good! Pesto is easy to make yourself but you can use prepared pesto, too. We grilled our Italian sausage and chicken first so that grilled flavor is over-the-top!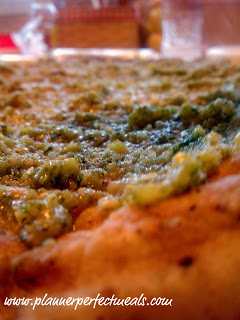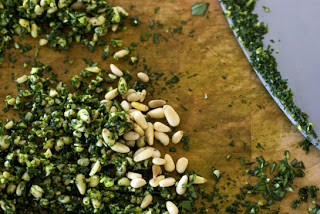 Homemade Pesto Recipe Adapted from 101 Cookbooks: How to Make Pesto like an Italian Grandmother… *image from 101 Cookbooks*
1 large bunch of basil, leaves only, washed and dried
3 medium cloves of garlic
one small handful of raw pine nuts
roughly 3/4 cup Parmesan, loosely packed and FRESHLY GRATED
A few tablespoons of extra-virgin olive oil
Special equipment: large mezzaluna for chopping
Start chopping the garlic along with about 1/3 of the basil leaves. Once this is loosely chopped add more basil, chop some more, add the rest of the basil, chop some more. I scrape and chop, gather and chop. At this point the basil and garlic should be a very fine mince. Add about half the pine nuts, chop. Add the rest of the pine nuts, chop. Add half of the Parmesan, chop. Add the rest of the Parmesan, and chop. In the end you want a chop so fine that you can press all the ingredients into a basil "cake" – see the photo up above. Transfer the pesto "cake" to a small bowl (not much bigger than the cake). Cover with a bit of olive oil, it doesn't take much, just a few tablespoons.
You can set this aside or place it in the refrigerator until you are ready to use it. Just before serving give the pesto a quick stir to incorporate some of the oil into the basil.
Makes about 1 cup.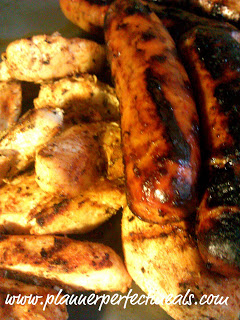 Ingredients:
2-3 Italian sausages
2 skinless chicken breasts; seasoned with salt, pepper and garlic powder
Log of fresh mozzarella sliced thin
Pesto. Homemade or prepared
Homemade pizza crust. Click here to for my best pizza recipe.
Fresh basil


Directions:
Prepare your pizza crust according to instructions. Heat your grill and cook your meats until cooked through; let rest on a platter. You have two ways you can make your crust; roll out your crust thin, place on a pizza pan or baking sheet, drizzle with olive oil and bake on 375 degrees for about 12 minutes until lightly browned…or another option is to grill your crust, which is absolutely delicious. Roll your dough fairly thin, and place on a hot grill; once crisp on one side (about 2 minutes), flip with tongs or large grill spatula and cook on the other side until crisp with grill marks, about 2 minutes.
Take off the grill and/or out of the oven, spread your pesto evenly all over the pizza crust, cut your Italian meat and chicken into bite-sized pieces and place all over the pizza. Lay your thin slices of mozzarella and pop under the broiler or onto your grill again until the cheese is melted.


Stack your fresh basil leaves on top of each other and roll tight, lengthwise. Cut the roll of basil into thin slices; otherwise know as the chiffonade. Cut into squares or pizza slices and enjoy this amazing pesto, chicken, Italian sausage pizza!


PPM Tip: On your baking day in the week you know you'll be making pizza, make up your dough and let rise; punch dough down and let set in a bowl and *age* for a couple days covered in plastic wrap until you are ready to roll out and prepare!