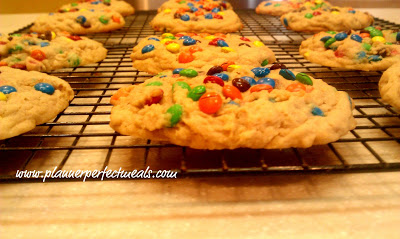 These cookies are outrageous! I love oatmeal in cookies and with this cookie, I decided to mix it up putting in not only oatmeal and mini m&ms but white whole wheat flour. The white whole wheat flour in these give them a heartier texture that is so good. At Panera Bread they sell individual mini m&m cookies and let me tell you, mine look and taste a million times, better! (I think I should introduce them to my cookie. Wish me luck…)
Ingredients:
printable recipe
makes 4 dozen monster cookies
4 sticks of softened butter
1 1/2 cups brown sugar
1 1/2 cups white sugar
4 eggs
1 tbsp. of pure vanilla
2 tsp. salt
2 tsp. baking soda
1 cup rolled oats
2 cups white whole wheat flour
2 cups white unbleached all-purpose flour
3 bags of mini m&ms (reserving one of the bags for topping the cookie)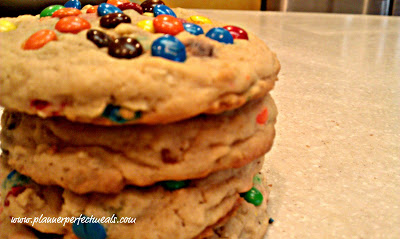 Directions:
In a stand mixer, combine your butter and sugars and beat until light and fluffy. Add your eggs one at a time and mix until incorporated. Add your vanilla and the rest of your ingredients.

Add your 2 bags of mini m&ms and using mix by hand so you don't break-up your m&ms

Preheat your oven to 375 degrees. On a baking sheet using a large ice cream scoop, place 6 balls of cookie dough on your sheet. With your 3rd bag of m&ms, take a small handful and press onto the tops of each of your cookies. They should look like the images of mine. They look pretty with all the m&ms on top!

Place in the oven and bake for 9 minutes until lightly browned.

Enjoy this amazing cookie…I think you are going to love it! Make some up and let me know how you like them!