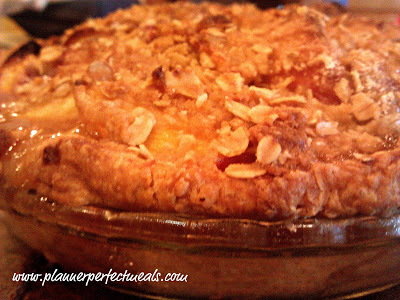 What do you get when you put together farm stand peaches and a tried-and-true flaky crust? A genius match made in heaven. Where do I begin, from the perfectly ripened peaches rolled around in a brown sugar glaze, on a bed of flaky goodness and topped with an oatmeal streusell. Good heavens you need to make this! Enjoy my friends. Enjoy.

printable recipe

Adapted from Food magazine by Martha Stewart.
The flaky crust you could cry about: I've come up with this crust and it's perfect!
Prepare crust. Cut butter into dry ingredients with a pastry blender until mixture is granular. Add cold milk, sprinkling on gradually and mix with table knife. Work mixture into a ball. Roll thin and place in 9-inch pie pan.
For the filling:
3 pounds peaches, halved, pitted, and cut into 1/2 inch slices (8 cups)
2 tbsp. light-brown sugar
2 tbsp. all-purpose flour

For the crumble:
1/3 cup packed light-brown sugar
1/3 cup all-purpose flour
1/3 cup old-fashioned oats
6 tbsp. of butter, cut into small pieces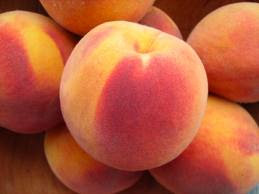 Preheat oven to 375 degrees. Lightly flour a rolling pin and work surface and roll out dough to a 12-inch round. Place in a 9-inch pie plat, fold overhand under, and crimp edges. make filling: in a large bowl, toss together peaches, brown sugar, and flour until combined. Make crumble: In a small combine brown sugar, flour, and oats; using your hands, work in butter until large clumps form.

Transfer peach filling to pie shell, then sprinkle crumble evenly over the top. Place pie on a rimmed baking sheet and bake until juices are bubbling and topping is golden, 1 hour 15 minutes. Let cool on a wire reach 1 1/2 hours before serving.