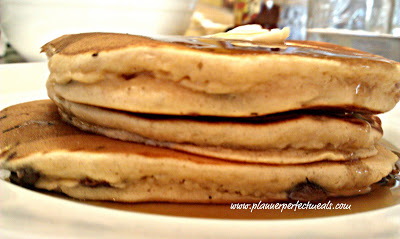 Peanut Butter Chocolate Chip Pancakes
I found these over at, Mama Must Have It, and they are so delicious! I am a huge peanut butter and chocolate fan so much so that I've been know to eat a bag of mini Reece's peanut butter cups within minutes leaving behind guilt, remorse, and wrappers in my path. So it would stand to reason these hit the spot! So easy, so fun, your kids will love them, too!
PPM Tip: Make a double batch (or quadruple if you have a large family), feed you family, and then you can stack extras with parchment paper between each layer and put in a freezer bag. Freeze for a quick breakfast or snack!
Printable Recipe
Ingredients:
1 cup all-purpose flour
1 tablespoon baking powder
1/2 teaspoon salt
2 tablespoons sugar
1 egg
1.5 cups milk, plus extra if needed
1/2 cup creamy peanut butter
1/2 cup chocolate chips– or more depending on the amount of chocolate you like….
2 tablespoons oil
4 tablespoons butter (or Pam Spray)

Get your griddle hot and ready to go.
Combine the dry ingredients together, then the wet. Using a whisk, combine all the ingredients together. (I used 1 cup of the milk, use more if you like a thinner pancake.) Add your chocolate chips and stir in with a wooden spoon. Using a 1/3 measuring cup, pour your pancakes onto your griddle and when you see the tiny bubble appear at the surface, about 1 minute, it's time to flip. Brown on the other side, take off griddle to enjoy!
You will love these! Thanks, Mama Must Have It!


I'm linked over at Serenity Now with Family Friendly Foods! Check it out and add your best recipe or just gain a whole new list of new ones!