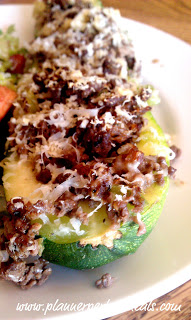 I had some zucchini and wanted it stuffed! I looked through several recipes and just came up with my own. This is so good and wonderfully paired with a salad and a glass of white wine.
Ingedients:
Printable Recipe

2 zucchini
1/2 lb. of ground hamburger ( I actually used ground venison since I've got myself a hunting husband)
1/2 lb. Italian sausage
1 bell pepper, chopped small
1 onion, chopped small
2 garlic cloves, minced
Parmigiano Reggiano cheese (You could put any cheese on top such as Gruyere or Havarti)
1 egg
2 tsp. oregano
1 tsp. thyme
salt and pepper to taste
Directions:
Preheat your oven to 375 degrees. Boil your zucchini in a pot of water (whole) until tender. Meanwhile, brown the meat and add the bell pepper, chopped onion and garlic until all are tender. Add salt and pepper to taste, and the herbs.
Once this mixture is cooled put in a bowl and add the egg to bind it. Take out the finished zucchini and let cool for a minute or 2. Cut the zucchini lengthwise and scoop out the inside center, leaving the sides intact. I put the scooped zucchini into my hamburger mixture. Scoop and set in your hamburger mixture into the zucchini boats and place in a baking dish or baking sheet lined with foil. Shred your Parmigiano Reggiano cheese all over the top, pop in the oven and bake for 15-20 minutes.
PPM Tip! To make this more kid friendly, do not add the egg and put the meat mixture on little slider buns.
Enjoy!