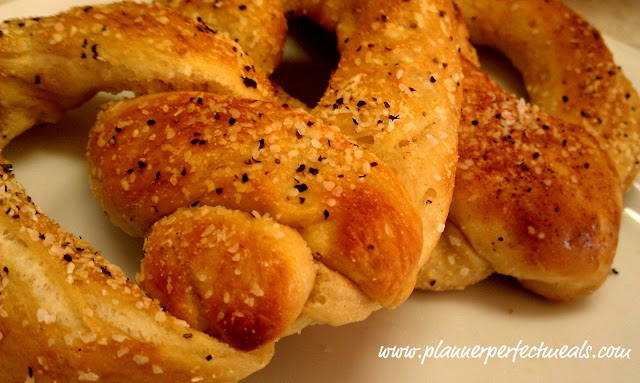 Who doesn't love soft pretzels! Oh my gosh they're good. Soft and chewy, and mine I sprinkled with a garlic salt. A concoction of salt, granulated garlic and fresh cracked pepper. Yummy! I have to say I've tried several different pretzel recipes and so far the, Better Homes, cook book has the best one for me. I will try others again soon so stay-tuned.
I made these on my baking day this last Sunday and they were gobbled up within seconds…you've got to try these. Kids love to help!
Printable Recipe
Ingredients:
4-41/2 cups all-purpose flour
1 pkg. of dry yeast
1 1/2 cups milk
1/4 cup sugar
2 tbsp. oil
1 tsp. salt
2 tbsp. salt
3 quarts boiling water
1 slightly beaten egg white
1 tbsp. water
Directions:

in a mixing bowl stir together 1 1/2 cups of the flour and the yeast. In a saucepan heat and stir milk, sugar, oil, and the 1 tsp salt till warm. (120 degrees) Add to flour mixture. Beat with an electric mixer on low speed for 30 seconds, scraping bowl constantly. Beat on high speed for 3 minutes or so and using spoon, stir in as much flour as you can. The dough should be soft and slightly sticky.
Turn out onto a lightly floured surface. Knead enough of the remaining flour to make a moderately stiff dough that is smooth and elastic. Shape dough into a ball and place in a greased bowl; turn once ot grease surface. Cover and let rise in a warm place till double (about 1 hour).

Punch down dough and turn out onto a lightly floured surface. Cover; let rest for 10 minutes. Roll dough into a 12×10 inch rectangle. Cut into twenty 12×1/2 inch strips. Gently pull each strip into a rope about 16 inches long.
Shape each pretzel by crossing one end over the other to form a circle, overlapping about 4 inches from each end. Take one end of the dough in each hand and twist once at the point where the dough overlaps. Carefully lift each end across to the edge of the circle opposite it. Tuck ends under edges to make a pretzel shape. Moisten ends and press to seal.
Place pretzels on greased baking sheets. bake in 475 degree oven for about 4 minutes. Remove from oven Lovwer oven temperature to 350 degrees.
Dissolve the 2 tbsp. salt in the boiling water. Lower pretzels, three or four at a time, into the boiling water. Boil for 2 minutes, turning once. Remove with slotted spoon and drain on paper towels. Let stand a few second, then place about 1/2 apart on well-greased cookie sheet. Combine egg white and the 1 tbsp. water. Brush pretzels with a little of the egg white and water mixture. Sprinkle pretzels lightly with sesame seed, poppy seed, or coarse salt. Bake at 350 degrees for 20-25 minutes until golden brown. Remove from baking sheets. Cool on wire racks.
Makes 20 pretzels.