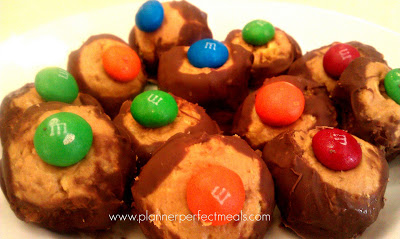 I found these over at the Picky Palate and had to make them for Halloween… and they taste delicious! Instead of the Reeces Puffs cereal she used I tried the all-natural Panda Puffs peanut butter cereal instead.
Your children are going to gobble these up!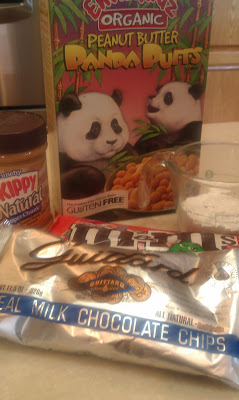 1 cup peanut butter cereal, crushed
3/4 cup crunchy peanut butter
1 cup chocolate chips ( I prefer Guittard chocolate, it's simply the best!)
1 small bag of peanut butter M&Ms or milk chocolate works, too
Add the first 4 ingredients together in a mixer and mix until it turns into a soft dough. Roll into 12 balls and place on cookie sheet. Freeze for 15 minutes. Meanwhile, place your chocolate in a microwave safe bowl and melt for about 1-2 minutes. Stir until creamy. With a skewer, dip your semi-frozen peanut butter balls into the melted chocolate leaving the top uncovered to create the monster eye opening. Place on a baking sheet to set and place the M&Ms on each ball to finish the eye look.