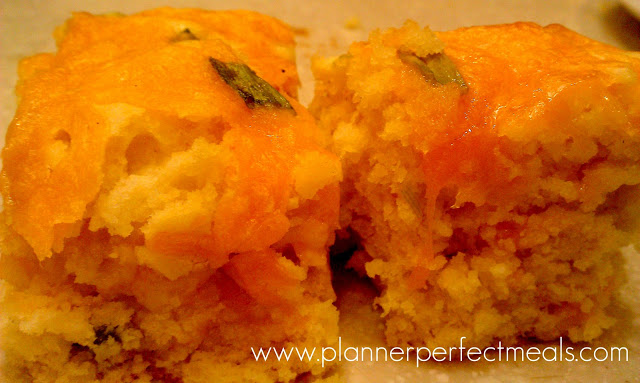 Let me tell you, I am not a cornbread kind of girl, but this recipe is killer. If you like the true somewhat gritty texture that cornbread provides, this one isn't it. But let me tell you what this one is: full of cheese, jalapeno, and scallions which equals full of flavor! It almost has a biscuit texture to it and it is another one of my all-time faves. You've got to try this next time you are making some chili or any meal for that matter…you're family will love it!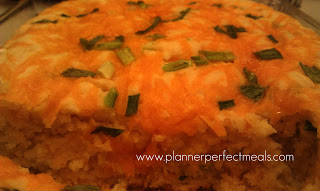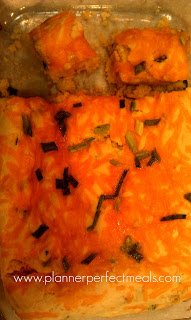 Adapted from Ina Garten, The Barefoot Contessa
Printable Recipe
Ingredients
1 cup yellow cornmeal
1/4 cup sugar
2 tablespoons baking powder
2 teaspoons kosher salt
2 cups milk
3 extra-large eggs, lightly beaten
1/2 pound (2 sticks) unsalted butter, melted, plus extra to grease the pan
8 ounces aged extra-sharp Cheddar, grated, divided
1/3 cup chopped scallions, white and green parts, plus extra for garnish, 3 scallions
3 tablespoons seeded and minced fresh jalapeno peppers
Directions
Combine the flour, cornmeal, sugar, baking powder, and salt in a large bowl. In a separate bowl, combine the milk, eggs, and butter. With a wooden spoon, stir the wet ingredients into the dry until most of the lumps are dissolved. Don't over mix! Mix in 2 cups of the grated cheddar, the scallions and jalapenos, and allow the mixture to sit at room temperature for 20 minutes.
Meanwhile, preheat the oven to 350 degrees F. Grease a 9 by 13 by 2-inch baking pan.
Pour the batter into the prepared pan, smooth the top, and sprinkle with the remaining grated Cheddar and extra chopped scallions. Bake for 30 to 35 minutes, or until a toothpick comes out clean. Cool and cut into large squares. Serve warm or at room temperature.