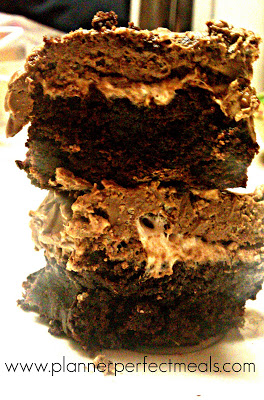 These are so freaking good! This is a must make!!

I love using my all-time favorite homemade brownie recipe for this. Click
here
for the recipe and follow normal baking instructions. Follow directions below to assemble the rest of the brownie.
1 bag (10½ ounces) miniature marshmallows
1½ cups milk chocolate chips
1 cup smooth peanut butter (don't use natural peanut butter)
1 Tablespoon unsalted butter
1½ cups Rice Krispies cereal
1. Preheat the oven to 350 degrees F. Grease a 9×13-inch pan. Bake according to directions
2. Remove the brownies from the oven and immediately sprinkle the marshmallows over them. Return the pan to the oven for 3 more minutes.
3. Meanwhile, place the milk chocolate chips, peanut butter, and tablespoon of butter in a medium saucepan. Melt over low heat, stirring constantly, until completely melted. Remove from heat, add the Rice Krispies and mix well. Allow to cool for 3 minutes.
4. Spread the mixture evenly over the marshmallow layer. Refrigerate until chilled before cutting.
Enjoy friends!