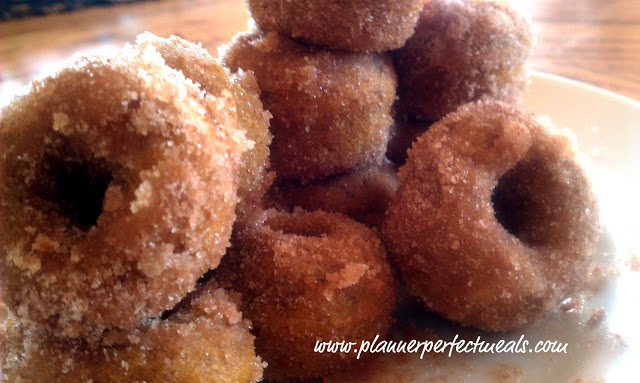 I found these over at the
Blue Eyed Baker
and let me tell you something, these are so fun to make because of their size and delicious! Your kids will love them and because of their size you can eat a ton! See how this works!! Enjoy, friends…
Petite Pumpkin Spice Donuts
Makes 24 mini donutsFor Donuts:
1 3/4 cups flour
1 1/2 teaspoons baking powder
1/2 teaspoon salt
1 teaspoon cinnamon
1/2 teaspoon nutmeg
1/2 teaspoon allspice
1/8 teaspoons ground cloves
1/3 cup vegetable oil
1/2 cup brown sugar
1 egg
1 1/2 teaspoon vanilla extract
3/4 cup canned pumpkin
1/2 cup milk
For Coating:
1/2 cup butter, melted
2/3 cup sugar
3 tablespoons cinnamon
Preheat oven 350 F. Butter a mini donut pan and set aside.
In a bowl, mix flour, baking powder, salt and spices together and set aside.
In a large bowl (or the bowl of an electric mixer fitted with the paddle attachment) whisk together oil, brown sugar, egg, vanilla, pumpkin and milk until combined. Slowly add the dry ingredients into the mixture and stir until just combined, careful not to over mix.
Using a pastry bag or a steady hand and a spoon, fill each donut cup with the batter. The donut cups should be fairly full, but not overflowing. Bake for 8-9 minutes, until donuts spring back when gently pressed (if you're using a larger donut pan, allow them to bake for 12-15 minutes). Tutn donuts out onto a wire rack and allow to cool for a few minutes.
While the donuts are cooling, melt butter in one bowl and combine the sugar and cinnamon in another. When donuts are still hot (but not too hot to touch), quickly dip each donut in melted butter, then coat in the cinnamon-sugar mixture. Serve immediately.
*Note: If you're not going to serve the donuts immediately, you can bake them up to a day in advance and store them in an airtight container. Do not coat them in the butter/cinnamon-sugar mixture until just before serving or they may get soggy.
You can also adapt this recipe for mini muffins. Just bake muffins for 10-12 minutes then follow the same procedure for coating.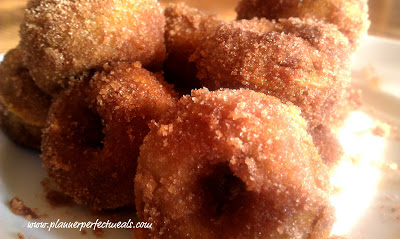 Pin It