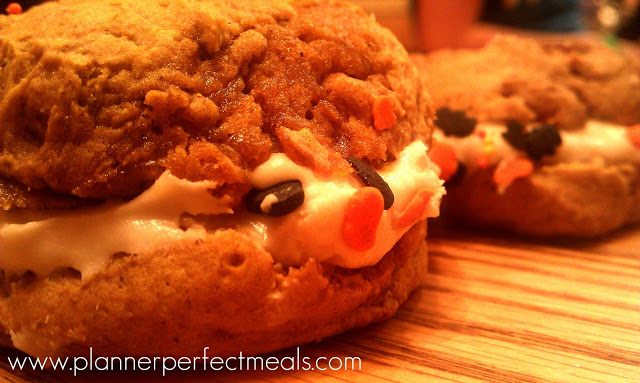 These pumpkin whoopie pies came from one of my favorite cookie books, Whoopie Pies. It's chalked full of a zillion different kinds of whoopies that are so delicious such as this one, the pumpkin whoopie. Melt in your mouth pumpkin delight with a cream cheese frosting. Check out my other whoopie pies I've made, too. My chocolate, chocolate whoopie, and my pumpkin spice with marshmallow filling.
21/4 cups all-purpose flour
1 tsp. tsp. ground allspice
1/2 cup butter at room temperature
11/2 cups solid pack pumpkin
1 tsp. vanilla
Cream Cheese Frosting for Center:
4 oz. of cream cheese
4 tbsp. butter at room temperature
3 1/2 cups powdered sugar
1 tsp. vanilla


Cream all the ingredients together with your whisk attachment until creamy


Position rack in the center of the oven an preheat the oven to 350 degrees. Line two baking sheets with parchment paper.

Sift together the flour, baking powder, baking soda, cinnamon, ginger, allspice, nutmeg, and salt onto a sheet of waxed paper.
In the work bowl of a stand mixer fitted with the paddle attachment, beat together the brown sugar and butter on low speed until just combined. Add the pumpkin, then the egg, beating well. Add the vanilla and beat until combined.
Add the flour mixture and beat on low until just incorporated, scraping down the sides of the bowl.
Using a small ice-cream scoop or 2 tbsp scoop, drop about 2 tbsp. of batter onto one of the prepared baking sheets and repeat, spacing them at least 2 inches apart. Bake one sheet at a time for about 15 minutes each ,k or until the cakes begin to crack and are firm to the touch. Let the cakes cool on the sheet for at least 5 minutes before transferring them to a rack to cool completely.
Cut each cookie in half in the middle center to create on whoopie. Put your frosting in a piping bag, pipe on the bottom cookie and top with top portion of the cookie. If you like sprinkles on the side have some sprinkles on a plate and simply dip the sides of the filled whoopie in the sprinkles, turning until the whole sides of cookie is covered.
**image taken by Madeline Robin Penton**