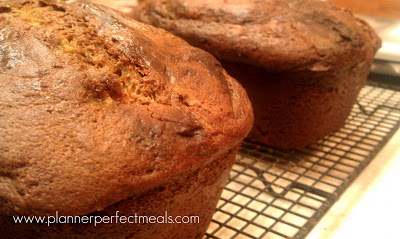 This bread is just double duty delicious. It is supposed to have a cheesecake swirl in it, but I mixed mine in the batter:( Next time I will make sure I don't do that because it looks pretty when you can see that sweetened cream cheese. It is moist, full pumpkin flavor and I know your family will love it. Plan to bake this one on your baking day!

Printable Recipe
Ingredients:
4 oz. package cream cheese, softened
1/4 cup sugar
8-ounce carton sour cream
1 egg
2 tbsp finely chopped crystallized ginger
3 cups all-purpose flour
2 tsp. baking soda
2 tsp gourn cinnamon
1 tsp ground ginger
1 tsp ground nutmeg
1/2 tsp salt
2 cups sugar
4 eggs
1 15-ounce can pumpkin
1 cup cooking oil
1/3 cup water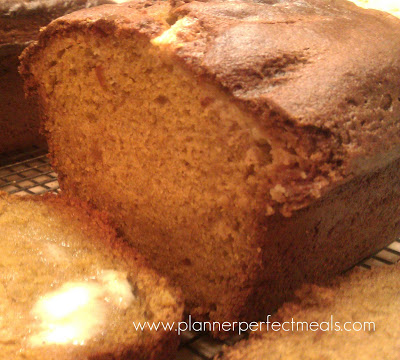 Directions:

preheat your oven to 350 degrees and grease 2 bread pans; set aside.

In a medium bowl, combine cream cheese and the 1/4 cup sugar. Beat with an electric mixer on medium speed until combined. Add sour cream and the 1 egg; beat until combined. Stir in the crystallized ginger and set aside.

In another medium bowl, stir together flour, baking soda, cinnamon, the ground ginger, the nutmeg, and salt and set aside

In a large bowl, combine the 2 cups sugar, the 4 eggs, the pumpkin, oil and water. Beat on low speed until combined, scraping side of bowl occasionally. Gradually add flour mixture, beating until combined

Spoon 1 1/2 cups of the pumpkin batter into each of the prepared pans. Divide the cream cheese mixture between pan, spreading evenly. Spoon the remaining pumpkin batter onto cream cheese mixture, spreading evenly

Bake for 60-70 minutes or until a toothpick inserted in the center comes out clean. Cool in pans on wire racks for 10 minutes. Remove bread from pans. Cool completely on wire racks.

Wrap and store in the refrigerator overnight before slicing. Store any leftover bread in the refrigerator for up to 1 week.