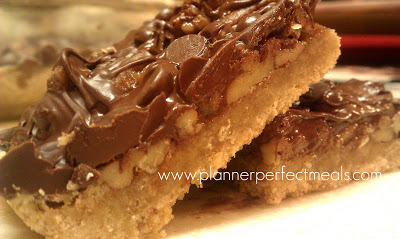 You can't tell me these don't look mouthwatering! They are decadent and they're a good one to tuck into your repertoire…they're that good. Perfect for Thanksgiving, too. I won't waste anymore time babbling…here's the wonderful recipe:

Recipe from Land O' Lakes and Bake or Break

printable recipe
Ingredients:
Crust:
2 cups flour
1 cup firmly packed brown sugar
1/2 cup unsalted butter, softened
1 cup pecan halves

Combine flour, brown sugar, and butter, beating at medium speed with an electric mixer until the mixture resembles fine crumbs.

Press onto bottom of ungreased 9×13 baking pan. Place pecans evenly over the top of crust.

Topping:

Preheat oven to 350 degrees
2/3 cup butter
1/2 cup firmly packed brown sugar
1 cup semisweet chocolate chips

Combine butter and brown sugar in 1 quart saucepan. Cook over medium heat, stirring constantly, until mixture begins to boil. Continue stirring and allow mixture to boil for 1 minute. Pour evenly over crust an dpecans.
Bake 18 minutes, until caramel layer is bubbly. Be sure not to over bake!

Remove from oven. Sprinkle with chocolate chips and allow to melt slightly. Swirl chocolate chips over the crust. Cool completely before cutting into bars.