Have you made a panini, yet? These sandwiches are pressed with a hot press on a thick bread, I use my homemade white bread made from my baking day, or a large Italian crusty loaf of bread until toasted, cheesy, flattened to perfection with all the flavors melded together. This is a staple at our house. It takes ordinary sandwiches to a whole new level!.
If you don't have a panini press, no worries; you can press this sandwich together by using something heavy to press the sandwich down with in your skillet such as another smaller cast iron pan on top. But I will have to say that panini presses don't cost very much. I got mine for $20 at Target and have used it religiously for three years. Get yourself one, you deserve it!
PPM Tip: To prepare these in advance with an Artisan bread such as an Italian crusty loaf, I buy 2-3 loaves of Artisian bread on my grocery day and using my bread knife, skim a little off the top and the bottom, so the flesh of the bread is barely exposed. I cut the bread in half length-wise and then across to make two halves. It makes two huge sandwiches, and I freeze them in freezer bags until ready to use.
Use left over meat from dinner during the week for your paninis.
You can do grilled cheese for the kids, that takes this sandwich to flavor town, serve with my
tomato soup
and it is a hit, gourmet kids lunch or dinner!
Makes two sandwiches
Ingredients:
2 cooked chicken breasts that have been seasoned with olive oil, salt and pepper and rosemary and sliced at an angle.
4 slices of Swiss cheese
A couple slices of onion
4 slices of prosciutto
Spicy mayo or mustard dressing
1 loaf of artisan bread
(Artisan bread is bread that is hand-made with pure ingredients of water, flour, yeast, and honey. Wrapped individually and found in health food markets and in the produce dept. of most grocery stores.)
evoo, salt, pepper, granulated garlic and chopped rosemary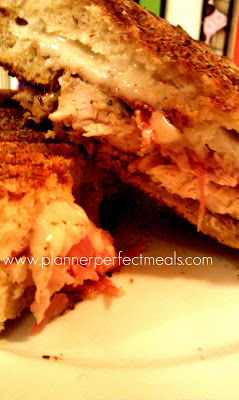 Spicy Mayo dressing:
¼ cup mayo
2 tbsp. Chilies in adobo (found in your ethnic isle of your grocery store.)
Chop your chilies with its sauce and put in with the mayo. Turn on your panini press to get up to temperature or your skillet and brush a little olive oil on your bread, and season with salt, pepper, granulated garlic and finely chopped rosemary. Place one half (olive oil side down), on your skillet or press and generously spread your mayo dressing on, and sliced chicken evenly on top. Lay on your sliced onion, prosciutto slices, and two slices of Swiss cheese. Place the top piece of bread on and brush the top generously with olive oil and seasonings. Create your next sandwich the same way placing it in the panini press or skillet, too.
Press firmly down with your panini press or press with top skillet on top of sandwich and in 5-8 minutes, you will have a crispy, crunchy outside with a burst of creamy, spicy chicken and cheese on the inside. I'm telling you… it's so good!
Spicy Mustard dressing:
I have this formulated this specifically for my husband, who just so happens to hate mayonnaise.
¼ cup mustard
2 tbsp. Chilies in adobo sauce.
Same as above and just using more or less adobo, depending on your "spice" level.
Enjoy this amazing sandwich any day of the week!