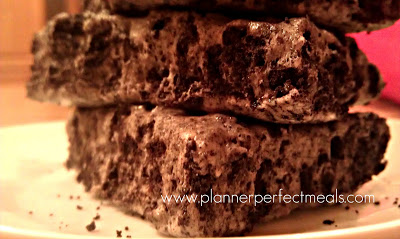 Let me tell you, these things were all over Pinterest and I had to try these out for myself.
Yep, they're as amazing as they look and the name lures you in, doesn't it?
Crushed Oreo smothered in marshmallows…e gads they're good.
It's so easy. Make them today!
Ingedients:
2 pkgs. of Oreo cookies, crushed either in a food processor or in a sealed bag by breaking into chunks using a rolling pin.
2 pkgs. of marshmallows
1 stick of butter
9×13 pan

Directions:
Melt your marshmallows and butter in a large skillet on the stove on low, stirring constantly.
Crush your marshmallows and place in a large bowl. Once the marshmallows are melted, pour over the Oreos and stir until incorporated and evenly mixed.

Pour into your pan and with a greased off-set spatula, spread out evenly, and let stand until set. At least 30 minutes.
Cut into bars and enjoy!