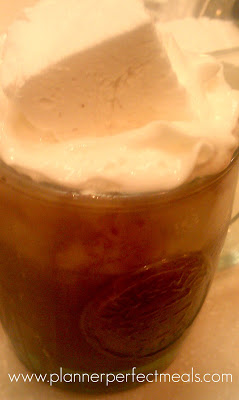 This homemade hot cocoa is so good you'll never go back to the powdered stuff again! Top it with a homemade marshmallow and you've got heaven in a mug on a snowy winter's day!
printable recipe
Adapted from the Food Network Magazine
Ingredients:
4 cups of whole milk
3/4 cup sugar
1/2 unsweetened cocoa powder
3 to 4 ounces bittersweet chocolate in a bowl


Directions:
Bring the milk, sugar, cocoa and chocolate to a simmer, whisking until thick and creamy and the chocolate melts, about 2 minutes. Top with whipped cream and a homemade marshmallow.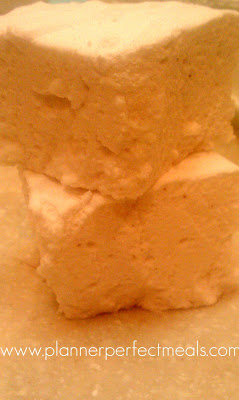 These marshmallows are so tasty. They are flecked with a vanilla bean that imparts such good flavor. So delicious! Even though it's so easy to buy marshmallows in a bag, you've got to try these for yourself, especially if you are having guests. It is very rustic looking and just makes the homemade, rich hot chocolate, sing! Don't take my word for it…try this out for yourself.


Ingredients:
3/4 cup cold water
2 1/4-ounce packets powdered gelatin
1/2 cup powdered sugar
1/2 cup cornstarch
1/2 cup corn syrup
1 1/2 cup granulate sugar
1/2 cup water
1/4 tsp. salt
2 vanilla beans, seeds removed from pods


Directions:
Combine the water and gelatin in a small bowl and mix to combine.


Mix the flour and cornstarch together in a separate bowl.


Sprinkle half of the cornstarch/flour mixture on the bottom of an 8-inch square pan.


Cook the corn syrup, sugar, water and salt in a saucepan over medium igh heat until 235 degrees on a candy thermometer 6-8 minutes.


Combine the syrup, gelatin mixture and the seeds from the vanilla beans and beat with a
mixer on medium high until thick and fluffy, about 6 minutes.


*To remove the seeds from the vanilla beans, lay flat the pod and taking a sharp knife, cut all the way down the center to open. Press the pod flat and taking the side of the knife now, scrape the seeds from the inside of the pod.*
Scrape into the pan and spread evenly with a buttered spatula. Sprinkle with the remaining cornstarch mixture. Let dry overnight, then slice into squares.
Enjoy this amazing treat on a chilly day! My family absolutely love this:)