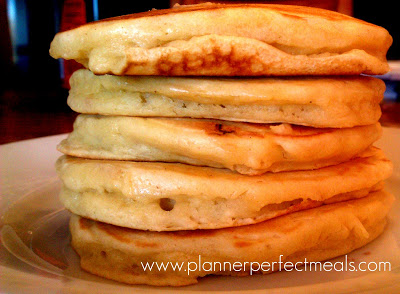 Big breakfasts don't have to be just for the weekends. Children enjoy being lured out of bed in the morning by a hot, big breakfast any day of the week. Bisquick will be a thing of the past when you try this recipe; it doesn't even compare.
*PPM Tip: prepare the dry ingredients together and store in a storage container and keep the list of wet ingredients to add, when ready, with a sticky note on the top of the lid of the container. Easy, delicious pancakes in a flash, any day of the week!*
1 1/2 cups all-purpose flour
3 tbsp. sugar
1 1/2 tsp. baking powder
1/2 tsp. salt
Whisk in another bowl:
1 cup milk
3 tbsp. butter, melted
2 large eggs
2 tsp. vanilla (secret weapon…it imparts amazing flavor!)
Pour the wet ingredients over the dry and gently whisk them together, mixing just until combined.
Spoon 1/3 cup batter onto the griddle for each pancake, nudging the batter into rounds. Cook until the top of each pancake is speckled with bubbles and some bubbles have popped open,then turn and cook until the underside is lightly browned. Serve immediately or keep warm in a 200 degree oven while you finish cooking the rest. Serve with: Pure maple syrup and butter.
I love to add fruit, nuts, and chocolate chips to some of my pancakes. Instead of folding it in the batter, I find the best way is to lay it on top of each pancake when on the griddle. I have done a banana, pecan combination which is amazing and chocolate chips is my daughter, Abby's, favorite. The sky is the limit with these pancakes. You'll notice, too that it is a fairly thick batter which makes a nice fluffy, thick pancake. This is the way my family like them. If you like them more thin like a flap-jack, just add about 1/2 cup more milk to your batter.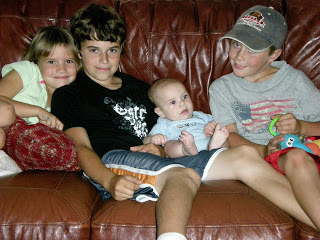 my bella, talylor, brock and gabe…4 of my 7 kiddos
Enjoy!