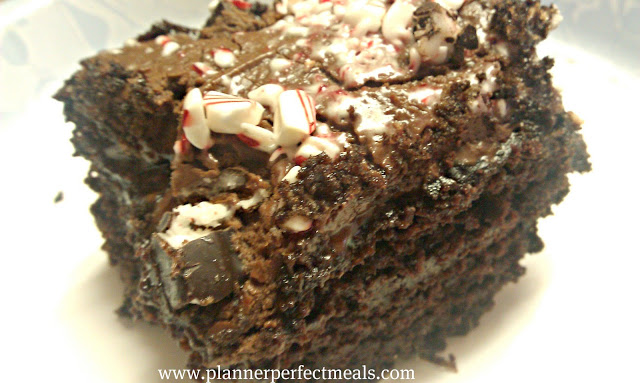 Does this look outstanding or what?
I was going to a little Christmas party with some of my favorite girlie friends and wanted to make a dessert that wowed. (I mean c'mon, we're worth it!) I was in the mood for a peppermint chocolate dessert and found one by Betty Crocker. But…it was all boxed caked and doctored frosting that came in a tub. I wanted to make this cake but with all homemade ingredients. The results? A pepperminty, chocolatey, moist delight, that no one could ever refuse and is an excellent way to celebrate Christmas with family and friends!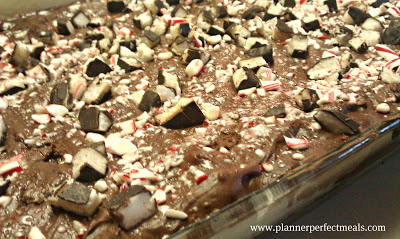 What you'll need:
Chocolate cake recipe
Devils food pudding and pie filling (one 4 serving box)
Chocolate buttercream peppermint frosting
8-9 small peppermint patties diced
2-3 large peppermint candy canes crushed
My all-time favorite chocolate cake that can't be beat is the Hershey cake recipe…
1 3/4 cup all purpose flour
Grease and flour an 9×13 cake pan
Combine dry ingredients in large bowl. Add eggs, milk, oil, and vanilla; beat on med. speed 2 minutes. Stir in boiling water (batter will be thin). Pour into pan.
Bake for 25-30 minutes or until a tooth pick inserted into the middle comes out clean.
Let cool for 15 minutes. Take the end of a wooden spoon and poke holes into the cake about 1/2 inch apart
Meanwhile make your pudding:
In medium bowl, beat filling ingredients, 2 cups milk and 1/2 tsp. peppermint extract. Whisk about 2 minutes. Immediately pour over cake. Cover loosely; refrigerate about 2 hours or until chilled.
Butter Cream Peppermint Frosting:
1 tsp. peppermint extract
Melt butter. Stir in cocoa. Alternately add powdered sugar and milk, beating on med. speed to spreading consistency. Add more milk, if needed. Stir in peppermint extract.
Frost cake and top with 8-9 diced peppermint patties and crushed candy canes.
Beautiful, moist and delicious! A must try!