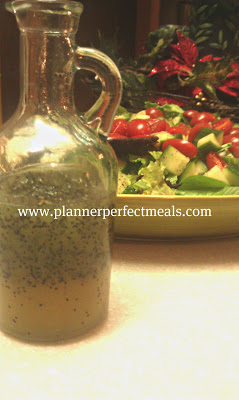 Have you tried lemon poppy seed dressing? It is so good! I brought this to a Christmas party in a mason jar and shook before I drizzled over my Apple Pear Salad. It was a hit! This will be a new favorite, that no store bought can deliver. I promise!


printable recipe
Apple Pear Salad
1 (16-ounce) package romaine lettuce
1 (6-oz.) block Swiss cheese, shaved
1 cup roasted walnuts
1/2 cup sweetened dried cranberries
1 large apple, thinly sliced
1 large pear, thinly sliced

Lemon Poppy Seed Dressing
Toss together first 6 ingredients in a large bowl. Drizzle with lemon-poppy seed dressing, tossing gently to coat.

Lemon Poppy Seed Dressing:
2/3 cup light olive oil
1/2 cup sugar
1/3 cup fresh lemon juice
11/2 tbsp. poppy seeds
2 tsp. finely chopped shallot
1 tsp. Dijon mustard
1/2 tsp. salt

Process all ingredients in a blender until smooth. Store in an airtight container in the refrigerator up to 1 week. Serve at room temperature.
**Adapted from Southern Living's Best Fall Recipes***