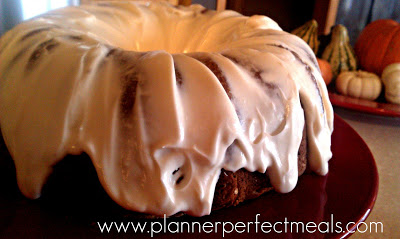 Seriously…this cake is out-of-control! It's moist, chalked full of apples, spiced just right, and smothered with a cream cheese frosting. Perfect for entertaining! You're going to love this recipe…Enjoy!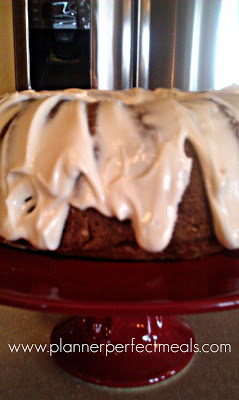 Cake:
3 medium green apples, such as Granny Smith, peeled, cored and diced into 1/4 to 1/2 inch pieces
1 1/2 cups maple syrup
3 eggs, at room temperature
3/4 cup light brown sugar
3/4 cup vegetable oil
1 tbsp. pure vanilla extract
3 cups flour
1 1/2 tsp. baking powder
1 1/2 cup tsp. baking soda
1 tbsp. ground cinnamon
1/2 tsp. ground nutmeg
1/2 tsp. ground ginger
1/2 tsp. fine sea salt
1 cup chopped chopped walnuts
Icing:
1 cup powdered sugar
1/4 cup heavy cream
4 ounces cream cheese
3 tbsp. water, plus extra, as needed
2 tsp. pure vanilla extract
Directions:
For the cake: Place an oven rack in the center of the oven. Preheat the oven to 350 degrees. Liberally butter and flour a 10-inch fluted tube or Bundt pan. Set aside.
In a large bowl, mix together the apples, maple syrup, eggs, sugar, oil, and vanilla. In a separate medium bowl, whisk together the flour, baking powder, baking soda, cinnamon, nutmeg, ginger, and salt. In batches, mix the dry ingredietns into the apple mixture. Stir in the walnuts, Pour the mixture into the prepared pan and bake until a cake tester or skewer inserted in to the cake comes out clean, 55-60 inutes. Cool for 15 minutes andin vert onto a wire reack to cool completely, about 1 hour.
For the icing: in the food processor, combine the powdered sugar, heavy cream, cream cheese, 3 tbsp. water, and vanilla. Process until smooth, adding more water, 1 tsp. at a time, until the icing is pourable. Spoon the icing over the cake and allow to drip off the cake.
Enjoy this great recipe, friends!
**Adapted from the Food Network**