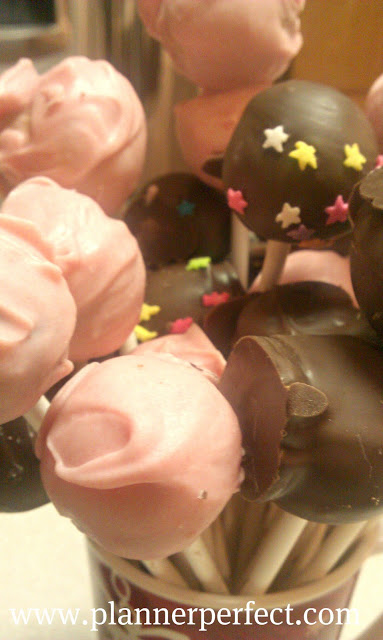 Starbucks Birthday Cake Pop
& A Chocolatey, Chocolate, Cake Pop
Everyone has heard of cake pops. They are a fun, pop-in-your-mouth, delight
,
that makes you want to keep popping them into your mouth. But in case you haven't heard of these bites, they are moist cake balls, dipped in candy melt. They are perfect for parties, entertaining and the like.
I've always loved Starbucks cake pops. My favorites are, well, all of them! I get one every time I order my favorite caramel or pumpkin spice latte. So I decided to copy their oh-so, delicious, birthday cake pop. A white, moist, delicious cake, dipped in a pink coated frosting. I also made a chocolate cake dipped in chocolate….sinfully good!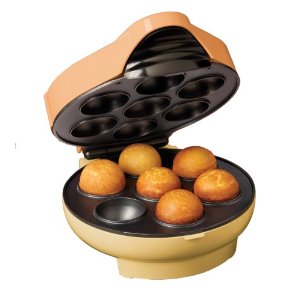 A cake and doughnut ball maker. It looks like a little waffle maker and makes up about 6 balls at a time. Reasonably priced at around $20…it's worth it! I found mine at Target.
There are other methods to making these cake balls. Cake mixes baked up and then store-bought frosting is mixed all together using a mixer to make a moist, wet, concoction. It is then shaped into balls and put onto a baking sheet and in the freezer to set. Then it is dipped in candy melt.
I have done this method and used my own cake recipe and homemade frosting and it turned good. You can find the recipe, here and here. But after making them this way, using the cake ball maker; I'd have to say that it's even better!
But don't take my word for it. You try it out and let me know which one you like best!
Homemade White Cake Recipe:
2 1/2 cups AP flour
2 cups sugar
1 tsp. baking powder
1/2 tsp. baking soda
1 1/3 cups buttermilk or sour milk
1/2 cup butter
1 tsp. vanilla
4 egg whites

Directions:
In a bowl combine flour, sugar, baking powder, baking soda, and 1/8 tsp. salt. Add buttermilk, butter and vanilla. Beat with an electric mixer on low speed for 30 seconds, scraping bowl. Beat on medium to high speed for 2 minutes, scraping bowl occasionally. Add egg whites and beat for 2 minutes more, scraping bowl.
Chocolate Cake Pops:
1/2 tsp cream of tarter ( I didn't have any and used baking powder…worked well)
1/4 cup unsweetened cocoa powder
In a large bowl, using a hand mixer, cream together the butter and brown sugar.
Beat in the eggs, one at a time, then stir in vanilla.
In a separate bowl, combine the flour, cream of tartar, and cocoa powder; stir into the egg mixture until well blended.
Preheat your cake maker and bake according to instructions. Once done, let them cool completely on a wire rack before dipping to coat.
For your outer shell to your cake pops the best is candy melt or almond bark. I used almond bark in the vanilla and the chocolate. For the birthday pops, I tinted the vanilla with 2 drops of red food coloring to create the pink color.
Sticks for your cake pops are found at craft supply stores or some grocery stores have them.
After your cake pops have cooled, melt just a little of your candy melt for adhering the sticks, by simply putting about 1/2 cup of the candy melt in a microwave safe bowl and microwaving for about 1 minute; stir to incorporate.
Dip the sticks into the melted chocolate and stick half-way through your cake ball. Lay on baking sheet. Continue to do so until all the cake balls are done. Put in the freezer for about 1/2 hour to set.
When they are ready, make more melted chocolate by pouring about 1 cup into a microwave bowl and microwave for about 1-2 minutes. Dip the prepared cake balls into your melted chocolate and stick your stick in a coffee mug or something to keep in upright so it sets well. (It sets fast!) You can sprinkle sprinkles or whatever garnish you'd like before it dries.
*courtesy Bakerella.com*
A beautiful, delicious bite!