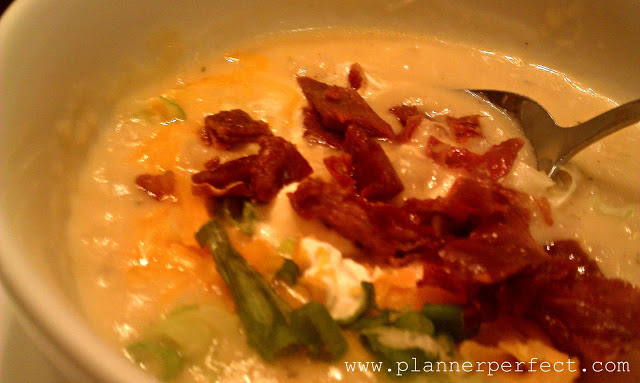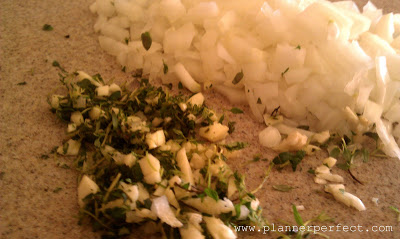 onions, fresh thyme, and onions, ready for the pot!
PPM Tip! I got this from Racheal Ray from the Food Network: Use a bowl as your trash can when preparing your meals. It's a great, organized tool, to keep you neat in your kitchen.

A Crock Pot Series
Potato Soup



What's more comforting than potato soup?
And this recipe is delicious, and easy, thanks to the Crock Pot. Just put in a couple ingredients and your good for dinner!
Look out for more, wonderful recipes for the Crock Pot; I found gems in my new slow cooker magazine by Cooks Illustrated, Slow Cooker Revolution. I know you will love these for your busy days; not only for their ease, but for their amazing taste!
8 ounces bacon, chopped (about 8 slices)
1 1/2 tsp. minced fresh thyme or 1/2 tsp. dried
2 tbsp. all-purpose flour
3 pounds russet potatoes (about 6 medium), peeled and cut into 1/2-inch pieces
2 cups shredded cheddar cheese (about 8 ounces), plus extra for serving
Cook bacon in 12-inch skillet over medium heat until crisp, 5-7 minutes.
Transfer bacon to paper towel-lined plate and refrigerate until srving. Pour off all but 2 tbsp. bacon fat left in skillet.
Add onion, garlic, and thyme to fat in skillet and cook over medium-high heat until onion is softened and lightly browned, 8 to 10 minutes. Stir in flour and cook for 1 minute. Slowly whisk in 1 cup broth, scraping up any browned bits; transfer to slow cooker.
Stir remaining 3 cups broth and potatoes into slow cooker. Cover and cook until potatoes are tender, 4-6 hours on low.

Transfer 2 cups cooked potatoes to bowl and mash smooth with potato masher. Stir cheddar into soup until evenly melted, then stir in mashed potatoes and cream. Let soup sit until heated throught, about 5 minutes.
Microwave bacon on paper towel-lined plate until hot and crisp, about 30 seconds. season soup with salt and pepper to taste and serve with scallions, crisp bacon, and additional cheddar.
Top with a dollop of sour cream, scallions and some shredded cheese…yum! Your whole family will love this! And the best part? It did most of the work for you! It's simple and delicious…enjoy!