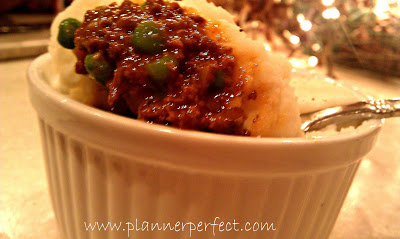 My shepherds pie in a ramekin
Shepherds Pie…from the slow cooker!
This recipe is out of this world!
Ground beef with carrots, onions, garlic, mushrooms and peas, in a delicious gravy, topped with creamy, buttery fluffy mashed potatoes.
Get your beef mixture cooking on low all day, whip up some mashed potatoes and serve individually and top each bowl with creamy mashed potatoes.
This recipe from the crock pot made a believer out of me…good meals can come from the Crock Pot!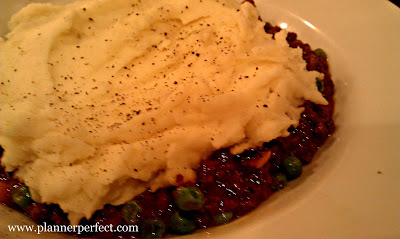 This is my shepherds pie served in a soup bowl…yummy
2 slices high-quality white sandwich bread, torn into quarters
2 pounds 85 percent lean ground beef
10 ounces white mushrooms, trimmed and halved if small or quartered if large
2 carrots, peeled and cut into 1/2-inch pieces
1 tbsp. minced fresh thyme or 1 tsp. dried
1/3 cup all purpose flour
Mash bread and milk into paste in large bowl using fork. Mix in ground beef, 1/2 tsp. salt, and 1/2 tsp. pepper using hands.
Heat 2 tbsp. oil in 12-inch skillet over medium-high heat until shimmering. Add beef mixture, 1 pound at a time, and cook while breaking up an large pieces with wooden spoon until no longer pink, about 3 minutes per pound; transfer to slow cooker.
Heat remaining 2 tbsp. oil in skillet over medium-high heat until shimmering. Add mushrooms, onions, carrots, tomato paste, garlic, and thyme and cook until vegetables are softened and lightly browned, 8-10 minutes. Stir in flour and cook for 1 minute. Slowly whisk in broth, scraping up any browned bits and smoothing out any lumps; transfer to slow cooker.
Stir in heavy cream and soy sauce into slow cooker. Cover and cook until beef is tender, 6-8 hours on low or 3-5 hours on high.
Let beef filling settle for 5 minutes, then remove fat from surface using large spoon. Stir in peas and season with salt an pepper to taste.
To serve…I spooned in the meet mixture in individual bowls, spoon mashed potatoes on top and using a butter knife, smooth out. Put some cracked black pepper on top and it is ready to go!
Another option is to put in ramekins (as shown above) and pop them in the oven under the broiler to get that fun crust on the top.