Host a hot chocolate party!
Wouldn't it be great if you could quickly make your
hot chocolate mix to have on hand on a cold's winter day after the kids sled all afternoon, or better yet, for a hot chocolate party?
It sounds fun to inviting a few friends over with their kids, building a snowman together and then coming in for some homemade hot chocolate!
That sounds like a fun afternoon…
Well, I must say, I've found a delicious recipe from Alton Brown (Food Network) and absolutely love it! It is creamy, chocolatey, and everything you'd want to have in your hot chocolate. Tell me what you think!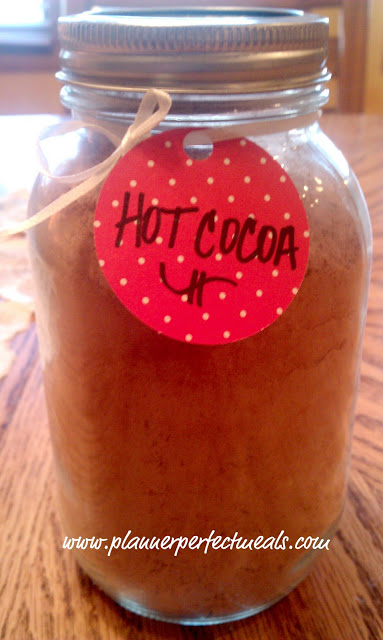 Ingredients
2 cups powdered sugar
1 cup cocoa (Dutch-process preferred)
2 1/2 cups powdered milk
1 teaspoon salt
2 teaspoons cornstarch
1 pinch cayenne pepper, or more to taste
Hot water
Directions
Combine all ingredients in a mixing bowl and incorporate evenly. In a small pot, heat 4 to 6 cups of water.
Fill your mug half full with the mixture and pour in hot water. Stir to combine. Seal the rest in an airtight container, keeps indefinitely.


Enjoy homemade marshmallows on top of your homemade chocolate! Click, here for my recipe.