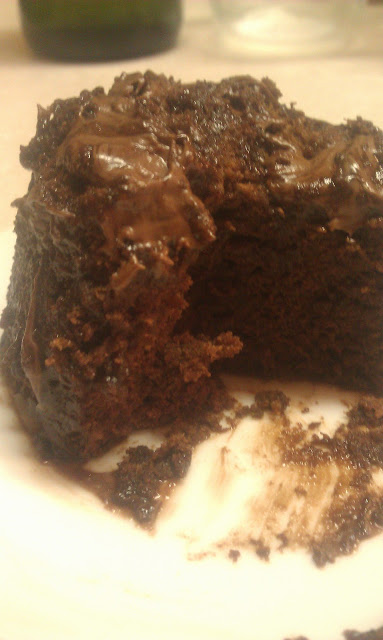 This is the most amazing dessert I've come across. You know why? Because this decadent personal size cake is ready in under 2 minutes from your microwave.
It is moist, full of chocolate, loaded with flavor, and hits the spot, perfectly! The best part? All the ingredients are all found sitting in your pantry and takes just a minute to prepare.
I wish you could have seen my son, Gabe, and I fight over this cake once it came out the microwave. Our mouths were stuffed with this amazing concoction and we didn't care who was around to witness…
Now you can cure a sweet tooth in 2 minutes, flat!
Yes!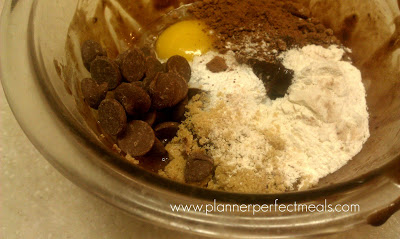 This is it for the ingredients…quickly give it a stir and pop in your microwave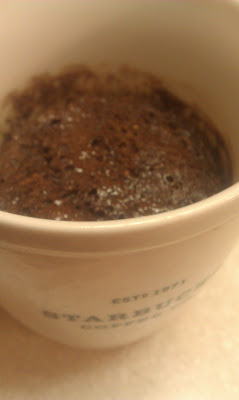 Make sure you use a large coffee mug. It does puff up when in the microwave and will bubble over if your cup is too short.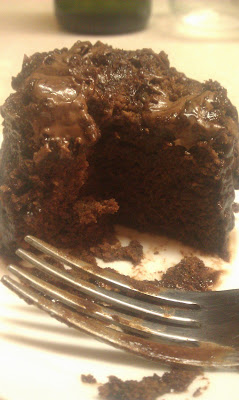 Eat straight out of your mug or tip cup upside down on a plate for a party for one!
Garnish with a dollop of whipping cream or a small scoop of vanilla ice cream…
Ingredients:
1 egg
1 Tbsp brown sugar
2 Tbsp chocolate fudge or peanut butter ( I used the fudge and it was amazing!)
1 Tbsp flour
1 Tbsp cocoa
1/4 tsp baking powder
a small handful of chocolate chips (I use Guitard chocolate, my personal favorite)
In a small bowl, stir the egg, brown sugar, peanut butter, flour, cocoa and baking powder with a fork. Stir in the chocolate chips and pour batter into a greased ramekin or mug. Microwave for 1 minute. Eat straight from the ramekin or mug, or invert onto a plate. Serves 1.
**I have just tried this with the peanut butter, too, and it is out of this world!!*** Have fun enjoying this cake!
**Adapted from Babble.com