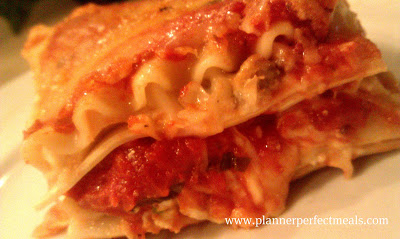 This is by far my best lasagna yet…
I've made quite a few lasagnas; I'm Italian, so this was definitely in my repertoire. But this one; this one is the best thus far. It's fabulous! Creamy, cheesy, the marinara sauce is bright and full tomato flavor and just enough Italian sausage throughout to give it bursts of flavor. Combined with all that cheesy goodness…equal magic. You must try my recipe!
Ingredients:
Lasagna noodles
1 tub of whole milk ricotta (15 oz.)
24 oz. prepared marinara sauce or your favorite jarred tomato sauce
(click here for my recipe…it is easy and absolutely delicious!)
Fresh Italian parsley
1 1/4 cup grated Parmesan cheese
1/2 cup fresh basil
1 large egg
1 pound Italian sausage, removed from its casing
4 cups shredded mozzarella cheese
***PPM Tip: Make a double recipe of the marinara sauce in advance, keep in your refrigerator to add to meals all week long, such as over warm pasta, your lasagna, for dipping mozzarella sticks…the possibilities are endless.
You can also label and keep in a freezer bag and freeze for up to 6 months to pull out for a quick, delicious meal any day of the week!
Directions:
Cook your lasagna noodles according to directions/Drain, and drizzle olive oil over them in the colander so they don't stick while your preparing the lasagna ingredients
Have all your ingredients for the lasagna assembly ready so its easy to do…


Make your cheese mixture:
In a medium bowl combine the ricotta, parsley, parm. cheese, basil, and egg; mix to combine.


Cook off your Italian sausage, drain, and keep on a plate until ready to serve.
In a 9×13 baking dish, spread about one cup of your tomato sauce at the bottom of your pan spreading evenly.


lay down a row (about 4) of noodles
spread a thin layer down of your ricotta cheese mixture
Sprinkle a thin layer of your Italian sausage
Sprinkle a thin layer of mozzarella cheese
Repeat: noodles, cheese, sauce, sausage, mozzarella cheese, 2 more times.


Last layer is noodles, sauce and mozzarella. Sprinkle with shredded basil, cover with foil and put into a preheated 375 degree for 40 minutes; take off foil and cook for 5-10 minutes more to get the top golden brown.