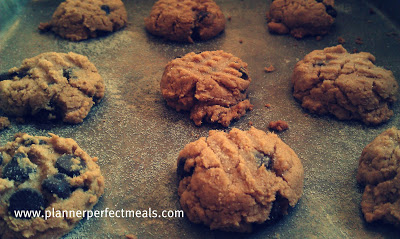 Flourless peanut butter cookies. AMAZING! Just a couple ingredients, stir, scoop, press, bake.
In 7 minutes, you've got a moist, a very peanut buttery, amazing cookie. You'd never guess there wasn't any flour or butter for that matter! I used my peanut butter that is just peanuts and salt. So it's in its purest form. You will love these cookies and how quickly you can make them up!
For a quick, wholesome treat for your babes…flourless peanut butter cookies will do the trick!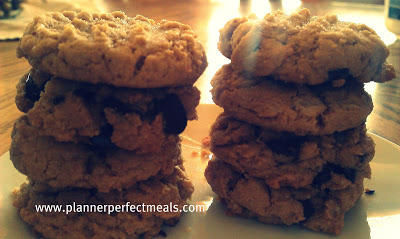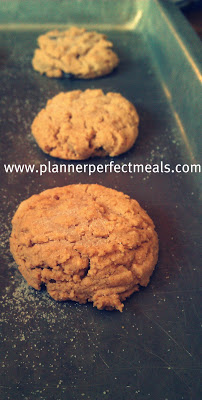 PRINT ME
Ingredients:
Makes 18-20 cookies
1 cup smooth peanut butter at room temp.
3/4 cup superfine sugar ( I used regular granulated and it was great!)
1 large egg
1/4 tsp. baking soda
large pinch of salt
1 cup milk chocolate chips or chopped chocolate
Preheat oven to 350 degrees
Put the peanut butter, sugar, egg, baking soda,and salt ina large bowl and mix with a wooden spoon until thoroughly combined. Mix in the chocolate chips.
Take rounded tablespoons of the mixture and roll into balls. I just used my small cookie scoop and made perfect little balls this way, and place on a cookie sheet.

Use a fork and slightly press. Sprinkle with a little sugar.

Bake for about 7-8 minutes until the tops slightly crack.
Let cookies cool on baking sheet for about 10 minutes to cool, then carefully transfer to a wire rack.
Enjoy!
**Adapted from the book, Lunch Boxes and Snacks