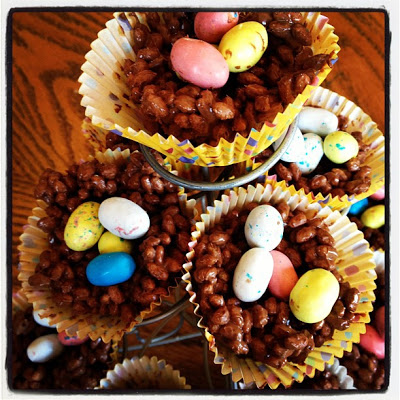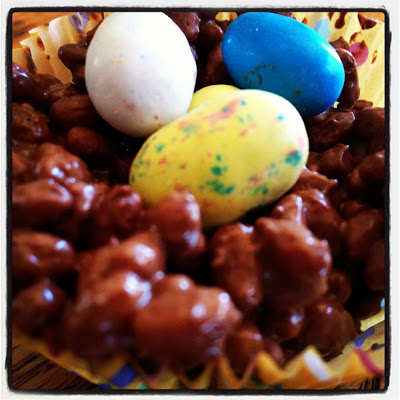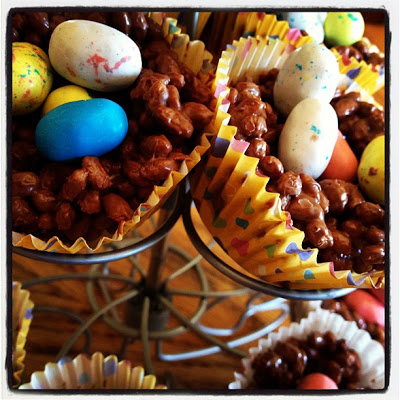 So easy to do and fun to make.
All you'll need is 1 bag of your favorite chocolate chips (if you know me, then you know the only bag of chocolate for me, is Guittard).
6 cups of rice krispies or cocoa krispies or even corn flakes. I used my EnviroKids brand cocoa krispie cereal in the health market of most grocery stores.
And one bag of robin egg candy (I used Whoppers).
Melt your chocolate in a microwave safe bowl for about 1 minute, maybe more, maybe less, checking after about 50 seconds so as not to burn and stir until fully melted. Pour over your cereal that is in a large bowl and mix until all is fully incorporated.
In a muffin tin, lined with Easter cupcake liners, spoon in your mixed chocolate cereal using your finger to make a well in the center (kids love this part) and put in your fridge for about 15 minutes to set. Once pulled from the fridge, kids can put in the little robin eggs (Whoppers) and there you have it! Little yummy bird nests that all will enjoy this Easter.