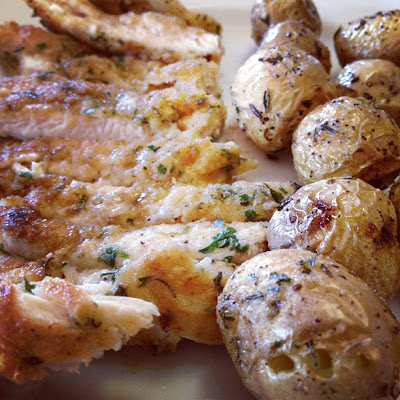 Here is another kid friendly meal that the whole family will love!
I love planning and serving fun lunches to my, many babes! They are fun to feed and peanut butter and jelly has its place, don't get me wrong (and one of my personal faves), but there is more to lunch that pb and j!
This chicken breast, I just pounded out thin, to cook fast, seasoned with garlic, salt, cracked black pepper and parsley; lightly tossed in flour and pan fried in a hot skillet with olive oil. They cooked in 4 minutes, flat and they're crispy on the outside, juicy and tender on the inside and the herb chicken was ready. I just sliced for them, and served!
For my potatoes, they are cute, mini yellow potatoes. I found mine at Trader Joe's and loved them! I just tossed them in extra virgin olive oil, granulated garlic, salt, pepper, parsley and thyme and let my oven work some magic!! I don't need to tell you that they came out delicious, do I? Mine loved dunking in a little ketchup; like a gourmet french fry. They were only in the oven for about 15 minutes. Now, with a little lunch menu planning, along side your regular dinner menu, you can serve some amazing lunches! Cook extra to use for paninis for dinner, or save the rest to top your salad…yummo, easy, healthy, fun!
Steam a little organic broccoli and generously coat with butter from grassfed cows and a little salt, and you've completed their meal, deliciously.
Chicken breasts, placed in a ziplock bag and lightly, pounding flat, using a rolling pin
Granulated garlic, salt, pepper, fresh or dried parsley
Shallow skillet or large cast iron skillet for cooking
Mini yellow potatoes or baby yellow potatoes, quartered
Granulated garlic, salt, pepper, fresh or dried parsley
Get your potatoes in your 450 degree oven by first, getting out your baking sheet, lining with foil, placing your clean potatoes on your sheet and drizzling with your olive oil and herbs. Toss to make sure all the potatoes are seasoned. Toss in your oven for about 15 minutes or until tender and pierces with a fork with ease.
Get your skillet on and drizzled with some olive oil. While that's getting hot, take your flattened chicken breasts and place on a plate and season with the herbs by just eying it. Sprinkling generously on both sides.
On another plate, sprinkle about 1 cup flour on your plate, and place your herb chicken on the flour pressing on; turning the chicken over to do the other side.
Take your plate of ready-to-go chicken and place in your hot skillet. Fry in the oil for about 2 minutes per side until lightly browned and cooked through.
Your meal should be done about the same time and serve on their plates with some broccoli or veggie of their choice and lunch is served!