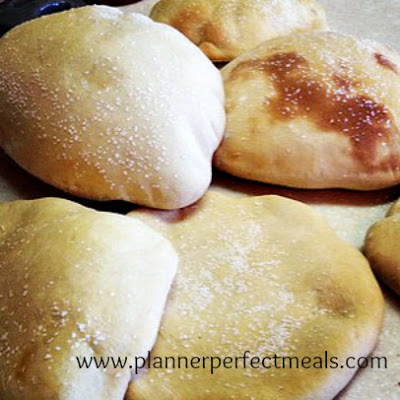 I made pitas for the first time and they came out perfect! Not hard to do and so worth the time. I made some for dinner and used them as a bed to hold my thinly cut flank steak, roasted poblano peppers and onions and loaded with swiss cheese; DELISH! I also used them the next day as a crust for quick pizzas and froze several more for my Greek gyros for next week.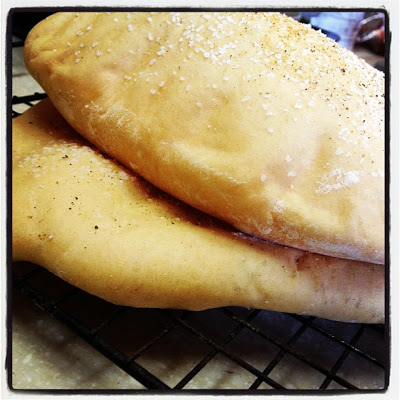 They are soft, they puff up in the oven (your kids will love this part) and they are very versatile!

This is a must make on your next baking day!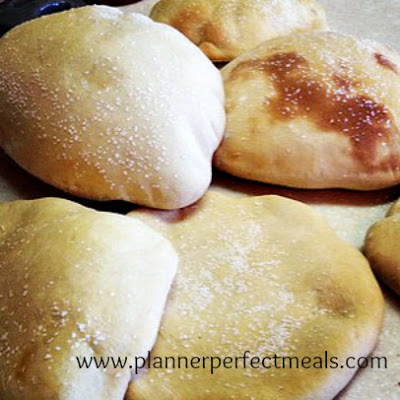 used for my homemade gyros! Over the top delicious!

PRINT ME

Yields twelve 7-inch pitas

Ingredients:
1 tsp. granulated sugar
2 cups lukewarm water
2 1/4-oz. pkgs. of active dry yeast
3 cups unbleached flour; more for dusting
3 cups whole wheat flour
2 tsp. kosher salt; more for sprinkling
1/3 cup plus 2 tbs. extra virgin olive oil

Directions:
Stir the sugar into 1 cup of the water. Stir in the yeast and set aside until the yeast is foamy, 5-10 minutes. In the bowl of a stand mixer, stir both flours and the salt ( add your flour a little at a time. I only used a total of 4 cups flour for this recipe; 2 white and 2 cups whole wheat. Adding flour always needs to be added gradually until you get the texture needed.

Make a well in the center and pour in the yeast mixture, 1/3 cup of the olive oil, and the remaining1 cup water. Mix with the dough hook on low speed until the dough becomes smooth and elastic and gathers around the hook, 4-5 minutes.

Shape the dough into a ball. Wipe out the bowl and put the dough back into the bowl. Drizzle the dough with the remaining 2 tbsp. oil and turn to coat. Cover with a cloth and set aside in a warm place to rise until doubled in size, about 1 hour. Gently deflate the dough with your hands, cover, and let rest for 20 minutes.

Turn dough out onto a floured surface. Portion the dough into 12 even pieces, about 33/4 oz. each. (It's good to use a scale here, but you can eyeball it.) Shape each piece into a rough ball and then put each ball on a floured section of counter, cup hand over it, and quickly rotate your hand over the dough. As long as the dough is a little stuck to the counter, this motion shapes the dough into a tight, evenly round ball.

On the floured part of the counter, roll each piece into a 1/8- inch- thick round that's about 7 inches across. As you finish each round, set it aside on a lightly floured surface. When all the dough is rolled, cover the rounds with a damp cloth, or two, and let them rest again for about 1 hour-they'll get a little puffy but won't double in size. Meanwhile, position a rack in the bottom of the oven and heat the oven to 500 degrees.

Lightly sprinkle the dough rounds with salt. Arrange as many of the rounds as will fit without overlapping on an unrimmed, ungreased baking sheet and bake until the pitas begin to turn golden on top, 5-6 minutes. As each batch comes out of the oven, stack the pitas 3-4 high and wrap in clean kitchen towels.

Serve immediately or let cool to room temperature. Well wrapped, they'll keep for 3 days in the refrigerator or 6 months in the freezer.

Reheat in a warm oven to soften before serving.

**Adapted from, The Best of Fine Cooking; Breads