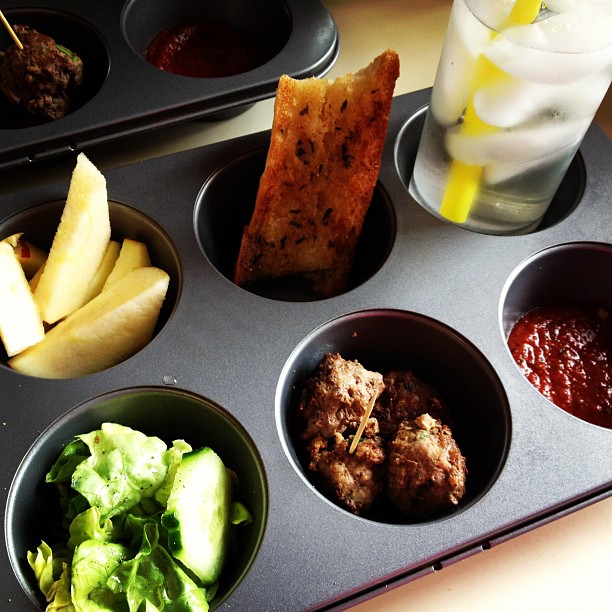 Have you tried muffin tins for a fun lunch for your child, yet?
An American take on the Bento lunch…this muffin tin suits lunch perfectly! I bought the large cup muffin tin, but also love the silicone, cute shaped ones, such as stars and hearts.
This Muffin Tin Meal is an Italian feast with my mini meatballs, my homemade spaghetti sauce for dunking, a small salad, and garlic bread on a French baguette and last, but not least, some cut, fresh apples.
This meal was a winner with my little ones, Bella, John and Brock. I've even had my older ones request a Muffin Tin Meal, too.
2 tbsp. each of dried parsley and basil
1 small handful of Anise seed
1 small handful of granulated garlic
fresh cracked black pepper
Get your large skillet ready and medium hot with some olive oil in the pan
.
Put all of your ingredients in a bowl and mix well to combine
.
I used my small cookie scoop to help guide my size for my mini meatballs and scooped it into my hand to continue making my smooth round shape.
Place your mini meatballs on a small baking sheet for your pan frying.
Once ready, place your meatballs in your hot pan and brown on all sides. Once they are browned, put a small amount of water in your pan, turn your heat to low and put a lid on and let the water and steam make the meatballs nice and moist. They only need to steam for about a 2-3 minutes. The meatballs are done when they are medium well ( just a little pink).
Place on a pretty platter with a toothpick for eating or plunk some in your children's muffin tin for a stupendous lunch! Simply delicious!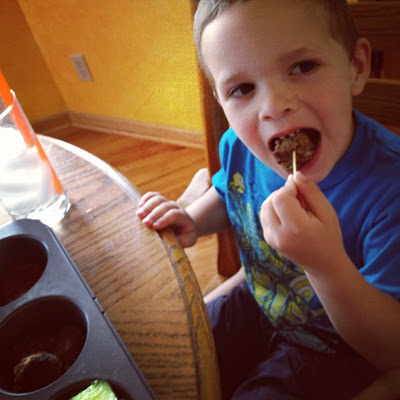 Brock gave it 2 thumbs up!