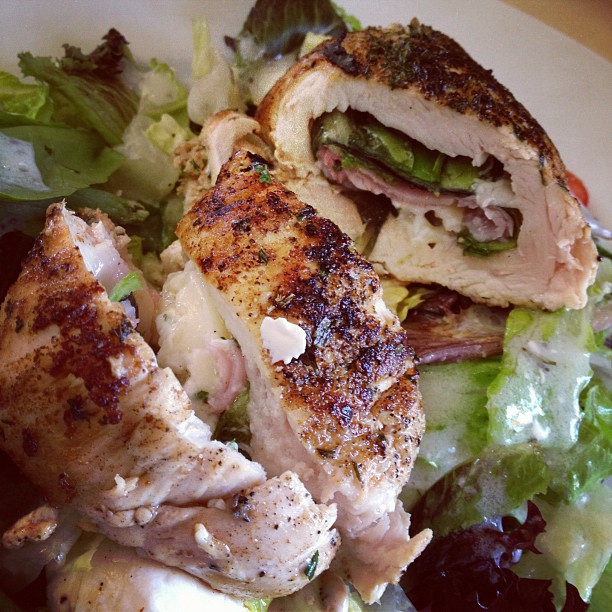 Creamy, bursting with flavor and simple to make…this stuffed chicken is sure to please!
This is amazing on a bed of greens with my sour cream vinaigrette. My family went nuts over this (I especially!). For pickier eaters, you can stuff your chicken with a little cream cheese and ham instead of the spinach and goat cheese; everyone will be happy!
This chicken breast is simply flattened thin, seasoned with great flavors, stuffed with a couple leaves spinach, a dollop of goat cheese, and a nice little size of no-nitrate deli ham. (Do you like how I said that?) But no-nitrate is important in keeping a healthy diet. This chicken is rolled up tight and pan fried in a hot pan of olive oil and browned on all sides before finishing off in the oven until cooked through and the cheese is bubbling out. Perfectly placed on top of my leafy greens and delicious vinaigrette, you'll be in heaven.
Plan for this meal when you do your menu planning and you will have planned, Perfect Food.
chicken breasts pounded to about 1/4 inch thin using a mallet or rolling pin and placing parchment under and over the chicken before flattening
Get your skillet hot on medium-high and coated with olive oil.
Lay your flattened chicken breasts out and season with your seasonings by just eying it and lightly seasoning both sides. Place you spinach leaves (2 or 3), a dollop of goat cheese, and a small piece of ham, toward the end and roll up tight keeping seam side down. Finish the rest of how ever many chicken breasts you'll need and place in your hot skillet seam side down.
Brown on all sides. Once browned, finish in a 450 oven for about 5-8 minutes longer. The chicken breast is thin so won't take long.
Make your vinaigrette for your salad. I am in love with sour cream and thought it would give my olive oil, herb and vinegar dressing a creamy kick! And it is delicious!
Get your greens in a large serving bowl; I love Arugula, Spring mix, and some chopped Romaine.
1/2 cup apple cider vinegar
I love to put all my ingredients together in mason jar, put the lid on and give it shake. Taste, adjust seasoning, and it's ready to go in a ready to pour container!
Place some greens on your plate, drizzle a little of your dressing, place your chicken breast over the top of your greens and it's dinner time! You can also choose to slice your chicken first before placing on the greens to showcase the bubbling, oozing cheese, ham and spinach.